AJ-D series Batch Controller is suited to flow applications where precise measurement and batch control quantities is required.
AJ-D series Batch Controller has the following main Features:
AJ-D series Batch Controller is suitable for various liquid; it can display instant flow, totalized flow and control purpose.
Input a variety of flow sensor signals, such as vortex flow meter, turbine flow meter, electromagnetic flow meter, roots flow meter, oval gear flow meter, orifice plate, V-cone flow meter, Annubar, mass flow meter.,etc. it is cheap price batch controller.
Flow input channel for batch meter: can receive frequency signal and a variety of analog current signals;
Temperature input channel: batch meter can receive a variety of analog current signal;
Can provide transmitter with +12V DC or + 24V DC power supply with short circuit protection function, simplify the system;
Fault-tolerant function: when temperature/density compensation measuring signal is abnormal, carry out compensation operation manually and set the corresponding value;
Batch counter has Flow re-transmission function, it can output current signal, update cycle is 1 second to realize auto batch control function.
Meter clock and timing automatic meter reading function, print function, provides the convenience for measurement management;
Rich self-test and self diagnosis function makes batch controller easy maintenance.
Three password prevents unauthorized personnel changes.
The batch controller without any potentiometer, code switch adjustable device, so as to improve the instrument seismic resistance, stability and reliability;
Communication function: can carry out data communication through a variety of means of communication with the host computer, RS-485; RS-232;
Main Technical Specification of AJ-D Series Batch Controller
1. Input signals for batch meter
Analogue
Resistance: Standard thermal resistance --Pt100;
Current: 0~10mA, 4~20mA,input impedance≤250Ω)
Pulse
Wave form: an rectangular shape, sine wave and triangular wave;
Amplitude: more than 4V;
Frequency: 0 ~ 10KHz (or according to user requirements).
2. Output signal for batch counter
Analog output:
DC 0~10mA(Load resistance≤750Ω);
DC 4~20mA(Load resistance≤500Ω);
3. Switch output for batch controller
Relay output –with hystersis, AC220V/3A; DC24V/6A(Resistance Load)
4. Communication for batch controller
Interface mode-RS232C,RS485,Ethernet;
Baud rate:600, 1200, 2400, 4800,9600Kbps
5. Feed output
DC24V,load≤100mA;
DC12V,load≤200mA
6. Characteristics of batch meter
Measuring accuracy: ± 0.2%FS ± 1 word or ± 0.5%FS ± 1 word
Frequency conversion accuracy: ± 1 pulse (LMS), generally better than 0.2%
Measuring range: -999999 ~ 999999 words (instantaneous, compensation value)
In 0 ~ 99999999.9999 words (Totalized value)
Resolution: ± 1 word
7. Display mode of batch counter
Historical cumulative flow, instantaneous flow, medium temperature, medium density, flow (differential current, frequency), clock, alarm status;
8. Control / alarm of batch controller
Select relay up/lower limit control (or alarm) output
Control (or alarm) is with hysteresis
Alarm: flow rate up and lower limit; temperature up and lower limit;
9. Protection of batch meter
Power accumulated value time more than 20 years;
Automatic reset, power supply under pressure;
Abnormal automatic reset (Watch Dog);
Resettable fuse, short circuit protection.
10. Working environment for batch controller
Environment temperature: -20 ℃~60 ℃
Relative humidity: ≤ 85%RH, avoid corrosive gas
11. Power supply of batch controller
Conventional type: AC 220V % (50Hz ± 2Hz);
Special type: AC 80~265V switching power supply;
DC 24V ± 1V switching power supply;
Backup power: +12V, 20AH, can last 72 hours.
12. Power consumption
Dimensions of Batch Controller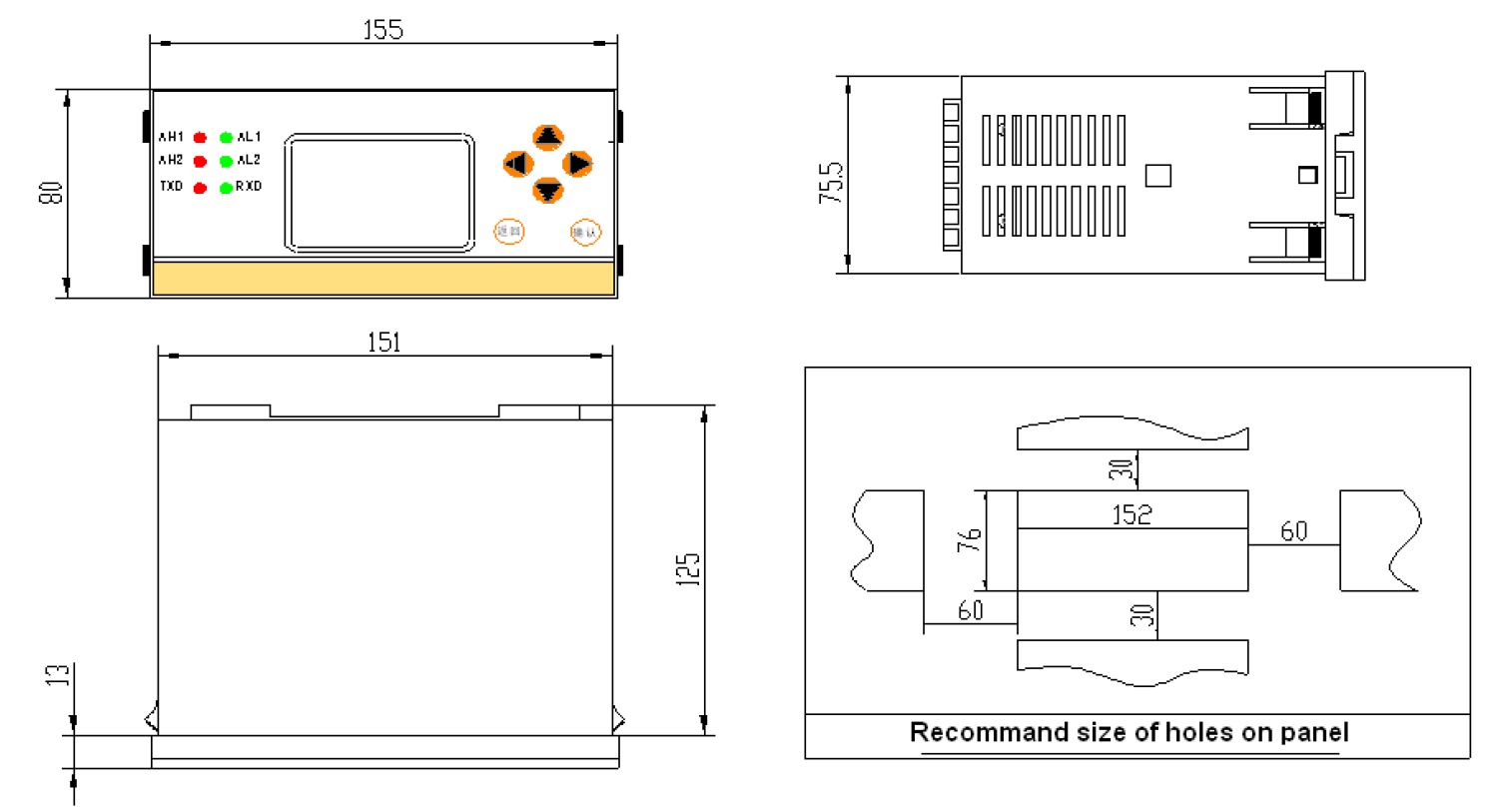 Sample
Vortex flow sensor to measure the quantity of hot water, average flow coefficient is 9.2187 pulses / L. With Pt100 temperature compensation. Each time we need to batch control 10 tons of water. Batch control without password or IC card to confirm.
Parameter setting: