Low Pressure Capsule Gauges overview
Capsule pressure gauge is sensitive instruments used in low pressure measurement typically not exceeding 60kPa. It is used in a wide range of applications including medical, heating, gas pipe-lines, burners,air-conditioner and many others. The standard low-pressure capsule gauges are designed to measure the low pressure of gas that does not corrode the copper alloy. This low pressure gauge series features a copper alloy capsule and socket. Low Pressure Gauge is suitable for accurate measuring the low pressure of corrosive gas or fluid in corrosive environment. This capsule pressure gauge series also features a SUS 316 capsule and socket. Low pressure gauge kpa can be used as panel mount air pressure gauge, natural gas pressure gauge, low pressure air gauge Low pressure water gauge, air compressor pressure gauge.,etc. As a China Pressure Gauge factory, we can provide cheap price pressure gauge also with excellent quality, and another advantage of our pressure gauge manufacturer is that we have fast delivery time even with custom capsule pressure gauge.

How the Capsule Pressure Gauge Works
Low range pressure gauge uses the diaphragm capsule as the sensing element for low pressure measurement. The diaphragm capsule is an elastic metal sensing element comprised of two thin wall diaphragms whose sides are soldered together to the capsule. Whenever air,gas enters the intake port (gauge connection),Kpa vacuum gauge travels into the diaphragm capsule. The walls of the capsule expand and contract in response to the change in pressure. This change is then transferred to a rotating rod of low pressure air gauge and arm that rest on the outside of the capsule of low range pressure gauge. The rotating rod of low pressure gauge kpa is connected to a geared movement through a linkage system. Connected to a shaft,this system then drives the pointer pressure gauge over a dial marked in appropriate pressure or vacuum units to provide a pressure reading.

Low Range Pressure Gauge Specification
Capsule Pressure Gauge Diameter: 60,100 (4inch), 150 (6")

Capsule Gauge Accuracy: 2.5%,1.6%

Low pressure manometer work Environment: -25 ~55 °C, relative humidity: less than 80%

Temperature impact: The temperature change is not more than 0.4%/10°C When the temperature deviates from 20±5°C.

Anti-working vibration:V.H.3 Class

Dual scales are available for pressure gauge; low pressure gauge kpa is normally used pressure unit. Option pressure units; Pa, mbar, PSI, mmH20,in H2o

Low range pressure gauge:0~1 PSI, 0-3PSI,0-5PSI,Kpa vacuum gauge -25~0Kpa,-1.6~0Kpa,pressue gauge 0-50Kpa,0-10Kpa

Glycerine filled pressure gauge (liquid filled pressure gauge) or dry type pressure gauge

Capsule Pressure Gauge process connection: 1/8"NPT, 1/4NPT, 1/2"NPT or BSP

All stainless steel pressure gauge

Also possible with diaphragm seals for corrosive gas measurement, such as NaClO sodium hypochlorite, chlorine, hydrochloric acid (HCL)

Low price for capsule pressure gauge , price starts from USD 35
Material of Main Capsule Low Pressure Parts
| | | |
| --- | --- | --- |
| Parts | StandardCapsule Gauge | Stainless steelCapsule Gauge |
| Connection | Brass | SST302 |
| Capsule | Tin bronze | SST302 |
| case | Cold rolled copper | SST302 |
| Movement | Brass | SST302 |
Low Pressure Gauge Model Selection
Item

Code

Description

Product

Y

Pressure Gauge

Function 1

E

Capsule Gauge(low pressure)

Function 2

F

Stainless steel material

N

Liquid filledCapsule Gauge (anti-vibration)

FN

Stainless steel material & liquid filled(anti-vibration)

Diameter

60

60mm

100

100mm

150

150mm

CapsulePressureGauge Mounting

AO

Bottom mounting

AT

Bottom mounting withfront flange

AH

Bottom mounting with back flange

ZO

Back mounting

ZT

Back mounting with front flange

BO

Lower back mounting

BT

Lower back mounting with front flange

ZK

Back U clamp mounting

BK

Lower back ,U clamp mounting

S

Others

Connection

C1

Thread M14×1.5

C2

Thread M20×1.5

C3

Thread 1/4NPT

C4

Thread 1/2NPT

Cx

Others

Measuring range




For example 0-6Kpa
Capsule Pressure Gauge Pressure Range and Accuracy
Model

Range (Unit: Kpa)

Accuracy (%)

YE-60,YE-100,YE-150

-1.6~0,-2.5~0,-4~0,-6~0.-10~0,-16~0,-25~0,

-40~0,-60~0,0~1.6,2.5,4.6,10,16,25,40,60,

±0.8, ±1.2, ±2, ±3, ±5, ±8, ±12, ±20, ±30




2.5
Note:YE-150 capsule gauge can have-500~0pa,0~500pa,+250pa, ±500pa.
Capsule Pressure Gauge Dimensions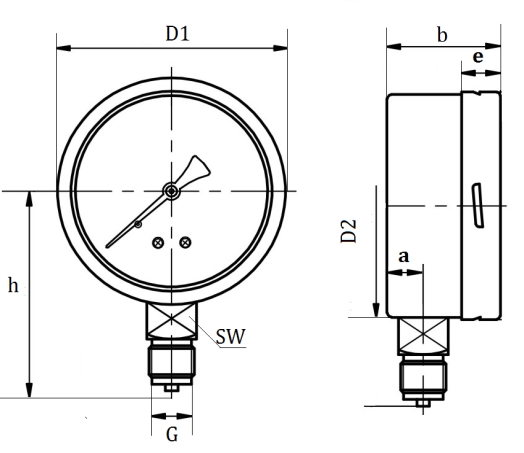 | | | | | | | | | |
| --- | --- | --- | --- | --- | --- | --- | --- | --- |
| Size | a | b | D1 | D2 | e | G | h | SW |
| 60 | 8.5 | 40 | 61 | 60 | 2 | M14*1.0 | 54 | 14 |
| 100 | 15 | 51 | 101 | 99 | 17.5 | M20*1.5 | 88 | 22 |
| 150 | 16 | 49 | 151 | 148 | 16.5 | M20*1.5 | 113 | 22 |