Diaphragm Pressure Gauge Overview
Diaphragm pressure gauge (chemical seals pressure gauge) is composed of a conventional pressure gauge, connector and a diaphragm seal. This combination enables a general industrial purpose pressure gauge to measure media of strong corrosion, high temperature, and high viscosity, containing suspended matter or crystallizing. Diaphragm pressure gauges are universally used in petrochemical, alkali, and chemical fiber, pharmaceutical, metallurgical, and food industries. We are a China Diaphragm pressure gauge manufacturer, we supply cheap custom diaphragm pressure gauge but still with robust and stable quality. Custom diaphragm seal pressure gauge, such as sanitary pressure gauge, capillary type pressure gauge, flanged pressure gauge, flush mount pressure gauge, high temperature pressure gauge.,etc. welcome to send your drawings or your technical specifications for pressure gauge diaphragm type. We will design for you.
Configuration Principle of Diaphragm Pressure Gauge
This illustration shows the operating principle of the pressure gauge with diaphragm seal. The diaphragm is deflected by the pressure of medium P, and an equivalent pressure P is generated. With transmitting through working fluid, the pressure P. deflect the elastic element of a pressure measuring instrument which thereafter shows the pressure value.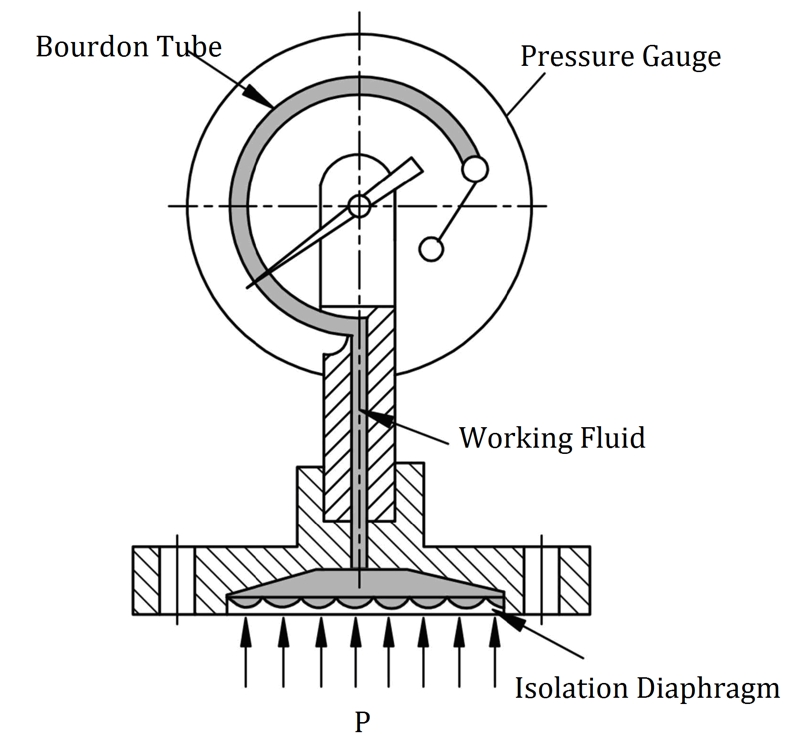 Level Difference of Diaphragm Pressure Gauge Seals Liquid
When a sealed diaphragm pressure gauge is mounted with pressure gauge and diaphragm seal at different positions, the effect of level difference should be taken into consideration (especially for a diaphragm gauge with capillary).As the illustration shows, with a S.G of the working fluid at approx.1, and level difference of 1m, the pressure difference of Diaphragm manometer is approx.0.001Mpa.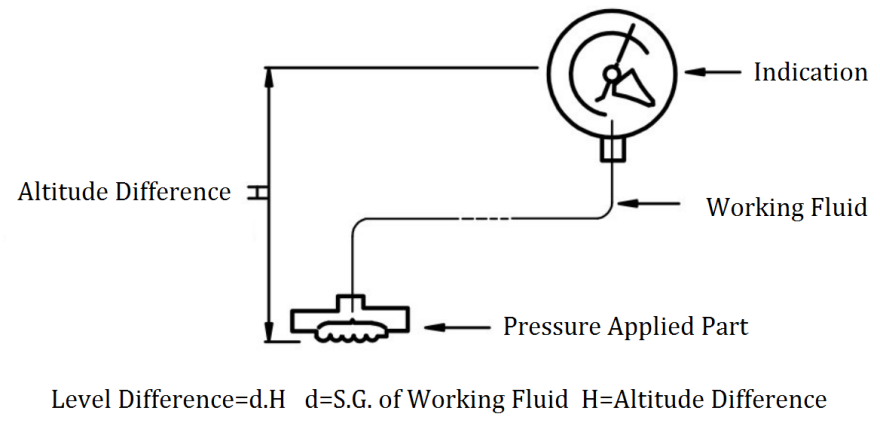 Temperature Influence of diaphragm pressure gauge
The temperature influence of a pressure gauge diaphragm type is relative to expansion coefficient of the seals working fluid, rigidity of the diaphragm, and temperature of pressed part. When working temperature deviates from 20±5°C,the indication varies within 0.1%/°C for rigid system, and within 0.1+0.025L%/°C (L-length of capillary in m.) for flexible system (remote mounting). Diaphragm manometer is filled with suitable working fluid according to different operating conditions.
Working Fluid

Temperature range for Diaphragm equipment

Specific Gravity

g/cm2

Factor of Expansion 1/°C

Glycerin-Water Solution

-5-100°C

1.27

0.61×10- 3

Silicon (low viscidity)

-40-130°C

0.94

1.08×10- 3

Silicon (high viscidity)

-30-240°C

1.07

0.95×10- 3

Fluorocarbon Oil

-30-160°C

1.93

0.75×10- 3

Vegetable Oil

-5-100°C

0.93

1.03×10- 3
Or other special working fluid
Corrosion-Proof Properties of diaphragm pressure gauge
Our Diaphragm Seal Pressure Gauge satisfies customer's requirements of both environmental conditions and flow conditions (corrosive media) based on its significant corrosion-proof properties. Choose various diaphragm pressure gauges combined with appropriate separator according to environmental conditions. Choose material of chemical seal diaphragm and housing compatible with corrosive media.
①.DiaphragmMaterial: SUS316,SUS316L,Monel (Cu30Ni70),Hastelloy(HC276), Tantalum (Ta), Fluoroplastic (PTFE)coated
②.BodyMaterial: 1Cr18Ni9Ti,SUS316, SUS316L,Fluoroplastic (F4), Fluoroplastic Coated Stainless Steel
③.GasketMaterial: Nitrile Rubber, Viton, Silicone Rubber, Fluoroplastic
Options for diaphragm material
Anti-corrosion materials for diaphragm pressure gauge
CorrosiveMedia

SUS316L

Tantalum

Monel

Hastelloy

Ti

PTFE

Vitriol(H2so4)

△

〇

∨

∨

×

∨

Nitric acid(HN03)

∨

〇

×

∨

∨

∨

Muriatic acid (HCI)

×

〇

×

∨

△

∨

Phosphoric

acid (H3P04)

∨

〇

∨

∨

×

∨

Acetate (CH3COOH)

∨

〇

∨

〇

〇

∨

(NaOH)

〇

△

〇

〇

∨

∨

Pure alkali (Na2CO3)

〇

〇

〇

∨

∨

∨

Saleratus (NaHC03)

〇

〇

〇

〇

〇

∨

Chlorine (Cl)

Dry:V. Wet:×

〇

Dry:∨. Wet:×

∨

Dry:×. Wet:〇

∨

Bromine (Br2)

Dry:V. Wet:△

〇

Dry:〇. Wet:×

〇

∨

∨

Ammonia (NH3)

∨

×

×

〇

〇

∨

Sea water (30% NaCI)

∨

〇

〇

〇

〇

∨
Remark:〇-best; △-conditional; ∨-use; ×-no using.
Standard material for Diaphragm manometer is SUS316L,corrosion-proof materials should be applied in normal temperature.
Diaphragm Pressure Gauge Model Selection
Item

Code

Description

Basic Type

Y

Generalservice pressure gauge

Material

F

Stainless steel Pressure Gauge (Option)

Function

ZT

With resistance transmitting

N

Oil filled Pressure Gauge (anti-vibration)

XC

Snap-action electric contact pressure gauge

SZ

Three pointers

S

Others

Diameter

60

Φ60

100

Φ100

150

Φ150




Others

Connectors

*refer to table 5

Z

Direct Mounting (Medium< 80°C)

Z1

Damper(Medium< 80°C)

Y1

Capillary(Medium< 200°C)

R1

Radiator(Medium< 200°C)

G1

OverpressureProtector(Medium< 80°C)

C

Special Angle(Medium< 150°C)

R4

Siphon (1,2,4,6 meters)

Diaphragm Seals

*refer to table6

F8

Diaphragm seal with thread connection

F1

I-Shape Flange

F2

diaphragm seal with flange connection

F4

Angle Adjustable

F5A

Extended Thread

F5B

Extended Flange

F6

Tri-Clamp Connection

F7

Threaded Connection (Sanitary Type)

F9

In Line Diaphragm Seals

Diaphragm Material

1

Stainless steel 316

2

Stainless steel 316L

3

Hastelloy

4

Monel

5

Tantalum

6

PTFE

Range

M***

(Refer to range table 4)

Option




Flange size and standard
Table of Pressure Gauge Ranges

Code

Ranges

Code

Ranges

Code

Ranges

M500

-0.1~0MPa

M030

0.1Mpa

M180

4Mpa

M510

-0.1~0.06Mpa

M040

0.16Mpa

M200

6Mpa

M520

-0.1~0.15Mpa

M060

0.25Mpa

M220

10Mpa

M530

-0.1~0.3Mpa

M080

0.4Mpa

M230

16Mpa

M540

-0.1~0.5Mpa

M100

0.6Mpa

M240

25Mpa

M550

-0.1~0.9Mpa

M120

1Mpa

M270

40Mpa

M560

-0.1~1.5Mpa

M140

1.6Mpa

M280

60Mpa

M570

-0.1~2.4Mpa

M160

2.5Mpa






Example of Diaphragm Pressure Gauge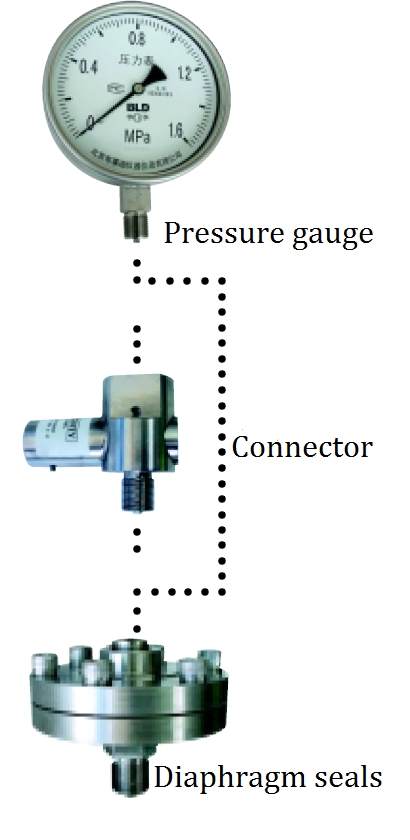 Connectors of
Example of
Diaphragm Pressure Gauge
| | |
| --- | --- |
| | |
| G1 Over pressure Protector | Y1 Capillary |
| | |
| R1 Radiator | Z1 Damper |
| | |
| R4 Siphon | C Special Angle |
Pressure Gauge Diaphragm Seals
| | |
| --- | --- |
| | |
| F8 Diaphragm seal with thread connection | F1 I-Shape Flange |
| | |
| F2 diaphragm seal with flange connection | F4 Angle Adjustable |
| | |
| F5A Extended Thread | F5B Extended Flange |
| | |
| F6 tri-Clamp Connection(Sanitary Type) | F7 Threaded Connection (Sanitary Type) |