Flow Meter sensor size: 8 inches V-cone Flowmeter
Process Connection:Flange 8"-150#-RF (ANSI B16.5),Weld neck , WN flange, -The flange face finishes 125 RMS according standard MSS SP6. ANSI B16.5.
Cone material: Stainless steel 316
Flange material: ASTM A105
Body material: ASTM A 106 GrB sch 40
Taps: 3 pairs of flanged ½"-150#-RF taps. (ANSI B16.5). The taps distribution 9h-12h-3h as shown in the sketch below.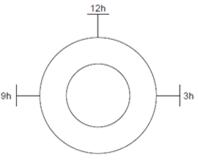 Certificate available along with the V-cone flow meter
Material certificate (CMTR)
Non-destructive testing , NDT test
Hydrostatic Pressure Testing
Penetrant Examination
Radiographic Examination
Positive Material Inspection
Magnetic Particle Examination
More information about V-cone Flow meter
V-cone flowmeter is a differential pressure flowmeter developed in the 1980s. It uses the throttling effect of the V-cone in the flow field to measure the flow by detecting the pressure difference between the upstream and downstream. Compared with the other DP flow meters, it changes the throttle layout from the center hole throttle to the ring throttle.V-cone flow sensor is widely used in the measurement of extremely dirty fluids (such as coke oven gas and blast furnace gas in steel plants).
Features for V-cone flow meter
※ It has good accuracy (≤0.5%) and repeatability (≤0.1%).
※ It has a wide range ratio (10﹕1~15﹕1).
※

Only a very short straight pipe section (before 1 ~ 3D and after 0 ~ 1D) is required.

※ With self-cleaning function, it can measure dirty and scaling fluid.
※

No moving parts, so they can work stably for a long time.
V-cone Flow meter applications
Fluids can measure: v-cone lfow meter can measure gas, natural gas (including humidity below 5%), various hydrocarbons (including wet HC gas), various rare gases (hydrogen, helium, argon, oxygen, nitrogen, etc.), chlorine gas, wet chlorine Chemical gas, air (including water, air containing SiO2 particles and air containing other suspended matter), flue gas, saturated steam (including steam and water two-phase flow), superheated steam, water, etc.
Conditions: From cryogenic to supercritical state, high temperature up to 450℃, large pressure 25Mpa, 3600 PSI.
Calculation: Each V-cone flowmeter is calculated with special software according to the nature, pressure and temperature of the fluid. The user can choose the β value according to his own application conditions (component of the measured medium, temperature, pressure, pipe diameter, large flow rate, common flow rate, small flow rate, allowable large pressure loss).
Maintenance: The V-cone flowmeter is nearly maintenance-free and does not require regular maintenance and verification.
V-cone Flow meter Factory