Electronic mass flow meter is used to determine the rate of flow of liquids and gasses. This is essential in different areas of plant production, efficiency and quality. For instance, since the law of conservation of material mass requires that the output mass be equal to the input mass, a mass flow meter can detect any losses in the mass as the product flows in between the input and the output. Electronic mass flow meter needs digital flow indicator to show fluids flow rate and total flow, also needs various outputs, such as current, pulse or frequency. It also needs communications, such as HART or Modbus .
There are so many industrial applications that require very small errors when determining mass flows. Therefore, high accuracy is important when selecting or buying an electronic mass flow meter for such application. A good case in point is fuel monitoring in many industrial applications where excess flow can actually alter product qualities or cause risk of fire and damage to the equipment. The same case applies to many gaseous applications.
Electronic mass flowmeter-Coriolis meter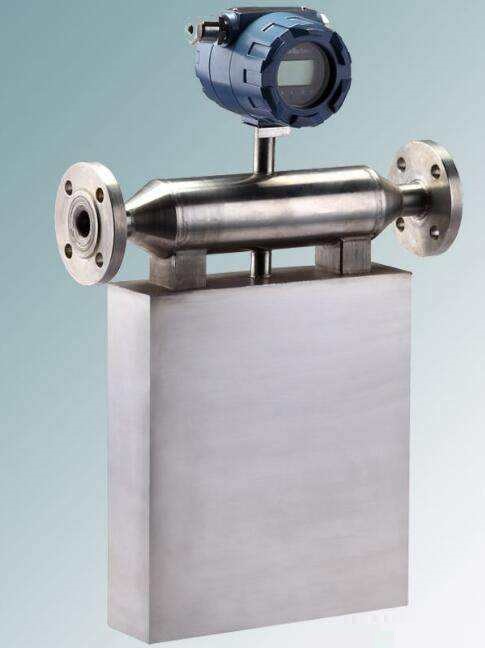 How this electronic mass flow sensor work?
When mass flows in a tube or pipe, it generates a force as it moves towards or away from a center of rotation. Coriolis mass flow meter is used to measure this force. Inside the flow sensor, the force will generate a swinging as it vibrates the tube in which the mass is flowing. The Coriolis meter will measure the amount of twist of the swing, which is proportional to the mass flow rate of the liquid or gas passing inside the tube.
Where electronic Coriolis mass flowmeter is used?
The digital mass flow meter can be used in applications involving water, chemicals, fuel, bitumen, resin, and gases/vapors. The changes in fluid density will not affect mass flow although care is to be taken when measuring gas/vapor flows because flow rates tend to be low. The large pressure will also drop across the flow meter and the associated piping can occur.
Eletronic gas mass flowmeter –Thermal mass flow meter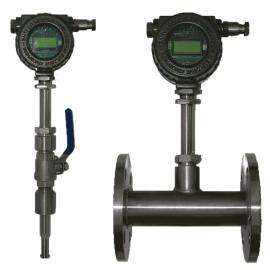 A thermal mass flow meter will be designed specifically for a given industrial application for gas or air mass flow measurement. These thermal dispersion flow meters do not have any moving parts, and they do not need any pressure or temperature corrections. They also retain accuracy even when used to measure flow rates over a wide range.
Digital thermal mass flow meter can handle a variety of gas, such as natural gas, biogas, N2, O2, CO2, Hydrogen, compressed air. It can detect low flow of gas and air .Electronic mass flow transmitter with 4-20mA output, pulse output for different process control. It can even equip with Hart Protocol or Modbus . Digital flow indicator can show gas flow rate and total flow vividly.
Thermal gas flow meter comes with inline flow meter and insertion type flow sensor. Insertion flow sensor is used for large pipelines which save a lot cost for large pipelines gas flow monitor.
Indirect electronic mass flow meter
In comparison, electronic mass flow meters will either measure mass flow of gasses and liquids either directly or indirectly. That may actually depend on the mechanism they employ for measurement. Some require several types of other measurement sensors (such as industrial temperature sensor and pressure sensor) and a flow computer to calculate mass flow, and these are called indirect mass flow meters. For example we can use vortex flow meter, orifice plate flow meter, V-Cone flow meter, balanced flow meter to measure gas or steam mass flow meter, we also need to equip temperature sensor ,pressure transmitter or flow computer to calculate the gas or vapor mass flow . Direct measurements do not require these extra devices and equipment, for instance in the measuring of gas mass flow by using Coriolis flow meter.

Application
Electronic mass flowmeter is applied in varied applications including oil and gas industries, water and wastewater, power, chemical, food and beverage, and life sciences. It can be applied in applications of low to high flow rates and in challenging liquid, gas and slurry applications.
When buying a thermal mass flow meter or Coriolis flow meter, the supplier requires to understand the composition of the fluid to be measured, because the composition might affect the measurement. In such a case, proper calibration factor may be needed to determine the flow rate accurately. Although calibration exist for ever thermal mass flow meter 'actually for every mass flow meter regardless of the mechanism it employs's the accuracy is dependent on the actual gas mixture being measured. This may be different from the mixture used to calibrate the meter. Eletronic mass flow meter is not cheap, while Silver Automation Instruments always support customers with rugged digital flow sensor at low price.