Pulsed output flow meters can be integrated into measuring / dispensing systems. Pulse flow meter can be scaled pulse output or frequency output. It can use together with computer control systems such as secondary displays, PLCs, and DCS.
Pulse output Turbine flow meter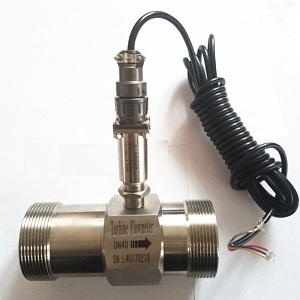 How pulse turbine meter work?
Turbine flowmeter is a speed flow measuring instrument used to measure the flow of fluid flowing through a closed pipeline. A turbine is placed in the center of the pipeline. The two ends are supported by bearings. When the fluid passes through the pipeline, it impacts the turbine blades and makes the impeller to rotate. The rotation velocity of the turbine is proportional to the fluid flow rate; hence the fluid flow through the pipe can be calculated.
Pulse turbine flow meter features
The pulse flow meter is a speed flow sensor with high accuracy, good repeatability, simple structure, high pressure, wide measuring range, small volume, light weight and low pressure loss. Pulse output turbine meter has fast response for batch control.
Various sensor sizes: 1/2", 1", 2", 3" or 4", 8", 10 inch pulse flow meter
Inline pulse output flow meter with flange, tri-clover, tri-clamp or thread process connection
Electronic pulse meter offers one pulse per unit (gallons and litres)
Pulse output turbine option with LCD readout or not.
NPN pulse output
Pulse turbine flow meter application
Liquid turbine flow meter is used to measure low viscosity, non-corrosive, clean liquid flow, such as water, diesel, gasoline, milk, chilled water, demineralized water, methanol, kerosene, emulsion, glycol mixture and light oil.,etc. water flow meter with pulse output is often requested.
Gas turbine flow meter with pulse output to measure air, N2, natural gas,LPG.,etc
Gear flow meter with pulse output
The gear flowmeter is a new type of positive displacement flowmeter, used for precise continuous or intermittent measurement of the flow or instantaneous flow of liquid in the pipeline. It is suitable for the flow measurement of high viscosity liquid such as heavy oil, polyvinyl alcohol, and resin. Each tooth generates a pulse with very high resolution. Hall-effect sensor can measure very small flow rates with ml/min or liter/h flow unit.
Applications of pulse positive displacement flow meter (PD flow meter)
Pulse output PD flow meter can measure kerosene, syrup, resin, grease, refrigerant, polyurethane, brake oil, hydraulic oil, suitable for automobile fuel consumption, boiler fuel, medicine, food, chemical raw materials, wine, milk, vegetable oil canning, etc.
We can also choose PP material for pulse PD flow meter to measure aggressive liquid, such as sulfuric acid, nitric acid, hydrochloric acid, sodium hydroxide ( NaOH)
Features of pulse output PD flow meter
Pulse output type: adopts three-wire system, non-contact square wave output, it is reliable signal transmission and long transmission distance, allowable working voltage DC12V or 24V, and can be used with various secondary instruments, PLC or DCS system connection
micro flow sensor : 2mm, 4mm,6mm,10mm,1/2",1 inch. Min flow can detect is 0.6 L/h.
Pulse output flow meter can also option with LCD display
Pulse PD flow meter can measure high viscosity liquid, up to 10000 cp
Option with RS485 or HART protocol
Remote display options for pulse PD flow meter
However, Silver Automation Instruments also sell pulse output electromagnetic flow meter, pulse output oval gear flow meter, pulse helical gear flow meter at low price. Common type pulse output flow meter you can buy from Silver Automation Instruments China flowmeter manufactures