Affordable Flow Meters from Chinese Manufacturers: A Blend of Durability and Swift Delivery
In the realm of flow measurement, China's manufacturers have risen to the occasion, offering a range of cost-effective flow meters that boast robust construction and remarkably swift delivery times. These low cost flow meters, produced with precision and attention to detail, cater to a diverse array of industries and applications. This article delves into some of the remarkable offerings from China's flow meter manufacturing landscape, highlighting their key features, applications, and the unbeatable value they bring to the table.
The SLW Series Low cost Turbine Flow Meter (TUF): Precision and Versatility

The SLW Series Turbine Flow Meter (TUF) is an exceptional exemplar of Chinese engineering ingenuity. Designed for a wide spectrum of fluids, including RO water flow sensor, tap water flow meter, condensate water, gasoline, solvents, diesel flow meter, and edible oil, the TUF series cheap turbine flow sensors stands as a testament to the versatility of modern flow measurement technology.
This volumetric flow sensor boasts unparalleled accuracy and can be configured with an array of digital outputs, including current (4-20mA) analog outputs, RS485, or the Hart protocol. Available in sizes ranging from 1/4 inch to 8 inches, the TUF series low price turbine meter incorporates proven technology that ensures reliable liquid flow measurements, all at a budget-friendly price point. Whether it's monitoring water quality, fuel consumption, or industrial processes, the TUF series low price turbine flow meter delivers dependable results without breaking the bank.
Unveiling the SHD Series Magnetic Flow Meter: Cutting-edge Measurement at an Unbeatable Price

The SHD Series low cost magnetic Flow Meter is another remarkable offering from China's flow meter market. With prices starting as low as USD 360, this mag meter has disrupted the industry by delivering advanced features at an unbelievably affordable rate. Engineered to measure conductive fluids, including aggressive acids, chemical solutions, wastewater, and water, the SHD Series magnetic flow transmitter is a workhorse for fluid measurement.
This full-bore electromagnetic flow meter boasts sizes ranging from 10mm to an impressive 2000mm, providing an array of digital display units such as m3/h, GPM, and L/h. The absence of moving parts eliminates concerns about pressure loss while ensuring high precision. Popular sizes, including 1 inch magnetic flow meter, 2 inches mag meter, 3 inches, 4 inches magnetic flow meter, 10 inches, and 24 inches, are readily available to cater to diverse industrial needs. The SHD Series low cost magnetic flow meter sets a new standard for affordability and performance in the realm of liquid flow meters.
LC Oval Gear Flow Meter at low cost: Robust Performance for Harsh Environments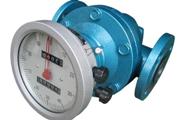 In scenarios where ruggedness and accuracy are paramount, the LC Oval Gear Flow Meter emerges as a frontrunner. Crafted with mechanical precision, this positive displacement flow meter excels in measuring diesel, crude oil, gasoline, heavy oil, molasses, syrups, and ethanol. Its robust construction and durability make it suitable for challenging environments and high-viscosity liquids.
The LC series positive displacement flow sensors offer the flexibility of both cast iron ,cast steal and stainless steel materials, catering to varying requirements and budget considerations. For those seeking advanced features and communication capabilities, options like digital oval meters with RS485 or Hart protocol compatibility are available, albeit at a slightly higher price point. The LC low price Oval Gear Flow Meter exemplifies the balance between affordability, accuracy, and durability.
Variable Area Flow Meter (Rotameter): Precision for Low Flow Applications

When it comes to measuring low flows of gases, liquids, or vapors, the Variable Area Flow Meter, or rotameter, shines as an exceptional choice. This versatile metering solution comes in multiple variants, including local pointer type flow indicators, digital displays for instant and cumulative flow measurements, and even models featuring Hart and RS 485 compatibility.
Traditionally designed with a bottom-to-top flow direction, the low cost Variable Area Flow Meter also accommodates horizontal flow positions (
horizontal rotamerters
), adding to its adaptability. With its ability to handle a range of substances and its precision in low-flow flow meter scenarios, the rotameter offers a cost-effective solution for a multitude of industrial applications.
Thermal Mass Flow Meter: Making Gas Flow Measurement Affordable

Gas and air flow measurement has long been associated with complexity and high costs. However, Silver Automation Instruments has revolutionized this domain by offering a low-cost thermal mass flow meter for gas and air measurement. Priced competitively from just USD 880, this digital gas flow transmitter provides measurements in SCFM, Nm3/h, and kg/h units.
This innovative solution eliminates the need for temperature and pressure compensation, streamlining the measurement process without compromising accuracy. With its affordable price point, the Thermal Mass Flow Meter opens up new possibilities for cost-effective gas and air flow measurement across various industries.
Conclusion: A New Era of Affordability and Excellence flow meter
The landscape of low price flow meter manufacturing in China has undergone a remarkable transformation, ushering in an era of affordability without compromising on quality and performance. The SLW Series Turbine Flow Meter, SHD Series Magnetic Flow Meter, LC Oval Gear Flow Meter, Variable Area Flow Meter, and Thermal Mass Flow Meter are just a few examples of the exceptional offerings that have redefined the industry's benchmarks.
These low spend flow meters showcase a commitment to precision engineering, reliability, and adaptability, all while remaining accessible to a diverse range of budgets. As industries continue to evolve and demand more from their measurement instruments, China's flow meter manufacturers stand ready to deliver cost-effective solutions that empower businesses to thrive in a competitive global landscape.