In the world of modern technology, the efficient measurement of diesel fuel flow has become an integral component of various industries, from transportation to manufacturing. The emergence of digital diesel flow meters has revolutionized the way diesel fuel is measured and managed. Three primary types of digital diesel flow meters, the electronic turbine flow meter, oval gear flow meter and Coriolis flow meters, have taken center stage, offering accurate measurements, advanced features, and enhanced communication capabilities. This article delves into the innovative features and benefits of these flow meters, shedding light on their applications and significance in today's diesel-driven landscape.

The electronic turbine flow meter stands as a cornerstone in the realm of digital diesel flow measurement. Operating on the principle of fluid-induced rotation, it accurately measures diesel fuel flow by monitoring the rate of rotation of a turbine in the fuel stream. This rotational data is then converted into diesel fuel volumetric flow rate readings, which can be displayed on a digital screen. This type of flow meter boasts remarkable versatility, with the ability to produce 4-20mA or pulse output signals, making it compatible with a wide range of data acquisition systems.
What truly sets the electronic turbine flow meter apart is its adaptability in communication protocols. Equipped with HART (Highway Addressable Remote Transducer) protocol or RS485 communication, it enables seamless integration into modern industrial networks. This integration empowers industries to achieve real-time monitoring, data logging, and process optimization, leading to enhanced operational efficiency and reduced downtime.
Normal request is 1",2 ", 3" , 4" or 5" digital diesel fuel flow meters, the flow range for diesel can be 1-10 m3/h, 17-176 GPM, 10-100 m3/h, 333-3333 LPM and so on.

Another pivotal player in the digital diesel flow meter landscape is the oval gear flow meter. Characterized by its robust construction and positive displacement flow meter mechanism, this flow meter provides unparalleled accuracy in fuel oil flow measurement. The oval gear design ensures that each measured volume of diesel is accurately captured; making it particularly suitable for applications where precision is paramount.
Like its turbine counterpart, the oval gear flow meter can also be equipped with a transmitter to provide current or 4-20mA output signals or pulse output. This integration enhances its utility by enabling seamless integration with various control systems and data acquisition platforms. Industries that rely on consistent and accurate fuel measurements, such as power generation and marine transportation, find the oval gear flow meter to be an indispensable tool for ensuring efficient operations and minimizing wastage.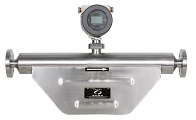 The evolution of digital diesel flow meters has led to the emergence of the Coriolis flow meter, a groundbreaking technology that takes flow measurement to the level of mass-based accuracy. Unlike traditional volumetric flow meters, the Coriolis flow meter operates on the principle of fluid-induced vibration. As diesel fuel flows through a vibrating tube, the Coriolis effect causes minute phase shifts in the vibration, which are then precisely correlated to the mass flow rate of the diesel.
One of the most significant advantages of the Coriolis flow meter is its ability to simultaneously measure diesel density and temperature along with fuel mass flow rate. This comprehensive data collection offers a holistic view of diesel fuel dynamics, enabling industries to optimize combustion processes and better understand fuel quality variations. The Coriolis mass flow meter's accuracy and multi-parameter capabilities make it an invaluable asset in critical applications, such as automotive research and development, where precision is non-negotiable.
Conclusion
In the world of digital diesel flow meters, precision, efficiency, and adaptability reign supreme. The electronic turbine flow meter, the oval gear flow meter, and the digital Coriolis flow meter have collectively transformed the way diesel fuel is measured, managed, and understood. These innovative technologies not only provide accurate measurements but also empower industries with advanced communication capabilities and comprehensive data insights. As industries continue to seek higher levels of operational excellence, the digital diesel flow meter stands as an essential tool, facilitating optimized processes, reduced waste, and improved overall performance.
Here we list normal types digital diesel fuel flow meter