1 inch mass flow meter refers to the mass flow meter sensor size 25mm (1 inch).
How 1 inch mass flow meters work?
I inch mass flowmeters work on the same way as thermal mass flow meter. Thermal gas mass flowmeter is based on the principle of thermal diffusion, when the gas flows through the heating object, the heat loss of the heating object is proportional to the flow rate of the gas. The one inch thermal mss flow sensorr has two standard RTDs, one It is used as a heat source, and one is used to measure the temperature of the gas or air passed. When the gas flows, the temperature difference between the two RTD sensors has a linear relationship with the flow rate, and then through the microelectronic control technology, this relationship is converted into a measurement flow signal (4-20mA).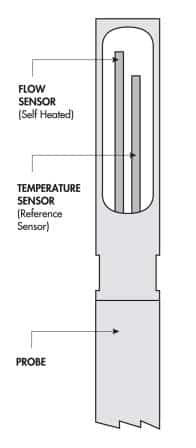 1" mass flow meter applications
1 inch mass flow meter can measure many kinds of gas in different industries and applications:
One inch mass flow meter can measure flow rate and velocity of biogas, coal gas,
natural gas, LPG gas, liquefied gas, air, compressed air, leak gas testing, flare
gas monitoring, blast furnace gas, flue gas, hydrogen, oxygen, nitrogen, carbon dioxide ( Co2) .etc
Specifications of 1 inch mass flow meter
One Inch mass Flow range for different gas:
Air: 0.16 MMSCFD
N2: 175Nm3/h;
O2 (oxygen gas): 55 SCFM
H2 (hydrogen): 17.43 SCFM
Argon gas( Ar) max flow : 82 Nm3/h
Natural gas max flow for 1" mass flow meter: 36 SCFM
Methane gas flow rate for one inch mass flow: 51 Nm3/hr
LPG mass flow: 52 SCFM
Wet parts material for 1" mass flow meter: 316L stainless steel (SUS) or option with Teflon paint sensor for low corrosive gas.
Inline mass flow meter;
Max temperature one inch thermal mass flow sensor: 300°C (572°F)
Flow velocity for 1" thermal gas flow meter: 0.05-80 Nm/s
Power supply: 220Vac or 24V DC power supply
Process connection: Flange or thread. ANSI, 150LB, 300LB, PN10, PN16, PN40, NPT, BSP thread 1"
Digital mass flow meter with electronic display to read gas flow rate, total flow, velocity, temperature;
Mass flow meter accuracy: 1% of Reading and 0.5% of full scale
1 inch mass flow transmitter has 4-20mA output, Modbus communication, option with HART protocol or relay outputs.
Parameters can be configured through display, no other software needed
Low price cost starts from $ 700
1 inch flow meter dimensions