How low flow fuel flow meter work?
Fuels, such as gasoline, diesel fuel, bio-diesel, kerosene, and ethanol may run at low flow rate. Such as at ml/min or lph velocity, in that condition, ultra low flow meters are needed. We recommend a kind of positive displacement flow meter for low fuel flow rate measurement, its measurement principle is: first divide the measured fuel into multiple equal unit volumes, and at the same time the fuel pushes the movement of the internal components (such as rotor) of the flowmeter, the electromagnetic signal sensor on the flow sensor shell generates an electrical signal after detection and converts it into a corresponding flow value.
Why use those kind low flow fuel flow meters?
Reasons to use PD flow meter for diesel fuel, gasoline, ethanol or kerosene low flow measurement is that:
The advantages of the positive displacement flowmeters are high measurement accuracy, installation conditions are simple (no straight pipeline needed before and after fuel flow meter), and the fuel viscosity have little influence on the measurement accuracy, this kind of flow meter can also be sued for high viscosity liquid flow measurement, such as hydraulic oil, winter oil, heavy oil ,Mobil oil, engine oil, gear oil.,etc
The measurement accuracy of low flow PD flowmeter can generally reach ±0. 5%, Silver Automation Instruments offer low flow fuel flow meter has large turn down ratio, which is 100:1.
Low flow fuel flow meter can work under low pressure; however our ultras low fuel flow meter is suitable for measurement under high pressure conditions up to 5800 psi. At the same time, for the measurement of small flow diesel fuel, the minimum measurement lower limit of positive displacement flowmeter can reach 1 mL/min which is very low flow rate. Miniature fuel flow meter can make precise measurement of continuous or intermittent fuel flow in pipelines such as 1/8",1/4",3/8 inch .,etc
Low flow fuel flow meter also has very small volume, for example, the height for one of our fuel meter sensor is only 602mm which will save a lot space when installing the fuel sensor, and it is small volume fuel flow meter.
Low flow fuel flow meter material options: stainless steel or aluminum; aluminum material fuel flow sensor is very cheap, which will start from $300.
Digital low fuel flow meter has NPN or PNP pulse output , it is option with 4-20mA current output , RS485 ;
Option with remote indicator or integral LCD display to show total flow and fuel low flow rate.
Positive displacement flowmeter is used as small fuel flow sensor is a relatively classic flowmeter, which is widely used in industrial dynamic measurement for different fuel measurement.
Low Flow range for fuels flow rate measurement range (gasoline, diesel fuel, bio-diesel, kerosene, and ethanol.,etc)
LC-M2 fuel flow meter: 0.5-150 ml/min
LC-M5 low flow flow sensor: 1-400 cc/min
LC-M6- ultra low flow meter range: 0.5~100 L/H
LC-M9-very low flow meter: 6~600 LPH
LC-M12-low flow meter: 0.3~30 L/min
LC-M25 PD type flow meter: 0.5~100 LPM
Small volume fuel flow meter size ( mm)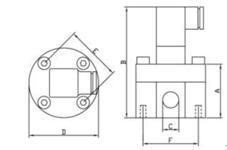 | | | | | | | | |
| --- | --- | --- | --- | --- | --- | --- | --- |
| Item | M2.1 | M5 | M5.1 | M6 | M9 | M12 | M25 |
| A | 38 | 35 | 37.5 | 40 | 46.5 | 56 | 72 |
| B | 70 | 68 | 69 | 72 | 81 | 91 | 107 |
| C | G1/8 | G1/8 | G1/8 | G1/4 | G1/4 | G1/2 | G1 |
| D | 39 | 39 | 49 | 49 | 64 | 89 | 113.5 |
| E | M4*31 | M4*31 | M4*42 | M4*42 | M5*54 | M5*80 | M6*103 |
| F | M4*31 | M4*31 | M4*42 | M4*42 | M5*54 | M5*50 | M6*60 |