What is 10" Coriolis flow meter ?
A 10" Coriolis flow meter is a type of flow meter that measures the mass flow rate of fluids with nominal diameter 10" (250mm). It is named after the Coriolis Effect, which causes the fluid to oscillate when it is subjected to a rotating motion. The 10" in the name refers to the size of the flow meter, specifically the diameter of the pipe that the fluid flows through.
Coriolis flow meters are typically used in industries that require accurate measurements of flow rates, such as the oil and gas industry, chemical manufacturing, and food and beverage production. The 10" size Coriolis meter is considered relatively large and is used for high-volume flow measurement applications.
The 10 inch mass flow sensor works by using a vibrating tube that contains the flowing fluid. The fluid oscillates in response to the rotating motion of the meter, and the resulting vibration is measured by sensors. The amplitude and frequency of the vibration are directly related to the mass flow rate of the fluid, allowing for precise measurement.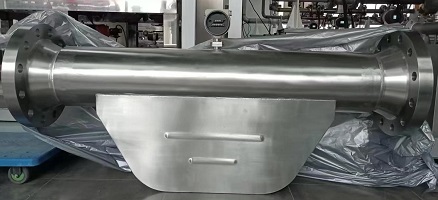 Characteristics of 10 inch Coriolis flow meter
Measure technology: CORIOLIS, micro bent type Coriolis flow meter
Fluid: Various kind of liquid or gas, such as fuel-oil, crude Oil, LNG, solution on measurement of bitumen, sugarcane juice and so on.
Size: 10" Coriolis flow meter or DN250 Coriolis flow meter;
Flow range for 10" Coriolis flow meter: 0~1000 Mt/h or 0~278 kg/s or 0~36742 lb/min;
10" Coriolis meter flow meter accuracy: 0.5%, 0.2%, 0.15% or 0.1%, it is high accuracy mass flow meter;
Flow meter Face to face length 1770mm (69.7inch)
Power supply: 110-230 VAC / 60 Hz or 24V DC
Certifications: ATEX Ex zone 1, Explosion proof cl1 div1 approved mass flow meter
Conduit entries: NPT 1/2" or others
Measurement: mass flow and flow rate, density, temperature, and volume.
Flow measuring tube material: Stainless steel 316L or option with Hastelloy alloy C-276
Process connection: 10" ASME 150 lb or DIN PN16 or JIS 10K.etc
Enclosure Material: SS
Output signals from digital 10" Coriolis flow meter: 4-20mA , frequency, ModBus, option with HART;
Flow Meter construction: remote display or compact display
NB250 Coriolis flow meter fluids operation temperature from -50~350°C or -200 ~150°C , it can be 250mm high temperature Coriolis flow meter or DN250 Cryogenic mass flow meter;
10" flowmeter can be made into jacketed mass flow meter; the insulated jacket type mass flow meter is specially designed for measuring high viscosity or easily crystallized fluids such as asphalt, sulfur, liquid wax, crude oil, adhesives, paraffin, etc. Generally, thermal oil or steam is used for insulation.
Standard pressure rating for 10" Coriolis effect flow meter: 16 bar (232 psi) or option with higher pressure mass flow meter , such as 262 psi 580 psi,725 psi or 1500 PSI high pressure Coriolis flow meter;
Mass Flow meter calibration 3 points in the factory, calibration report from Coriolis flow meter factory.
We have low price 10" Coriolis flow meter, welcome to send email to us to get the price: sales@silverinstruments.com;
Dimensions for 10" Coriolis flow meter