We introduce three kinds 3" gas flow meters here : thermal mass flow meter, gas turbine flow meter, vortex flow meter.
3 inch thermal mass flow meter
SRK-100 series thermal mass flow meter is designed based on the principle of thermal diffusion. The flow measuring instrument uses the constant temperature difference method to accurately measure the gas. It has the advantages of small size, high digitization, convenient installation and accurate measurement.
Features and Parameter for 3" thermal mass flow meter
1. A true mass flow meter, which does not require temperature and pressure compensation for gas flow measurement. The measurement is convenient and accurate. Gas mass flow or standard volume flow can be obtained.
2. The wide range ratio of thermal gas flowmeter, it can measure gas with flow rate as high as 120Nm / s and as low as 0.1Nm / s, which can be used for gas leak detection.
3. Thermal gas flowmeter has good seismic performance and long service life. The gas flow sensor has no moving parts and pressure sensing parts, and is not affected by vibration to the measurement accuracy.
4. Easy installation and maintenance. For 3" thermal flow meter, it can be flanged or insertion type gas flow meter.
5. Digital 3" air flow meter with electronic gas flow totalizer to show total and flow rate.
6. Thermal meter Using RS-485 communication, or HART communication, can realize factory automation and integration.
3" Gas turbine flow meter
SGW Series Gas turbine flowmeter is actually a gas or air measuring device for detecting the gas flow rate in a gas closed pipeline, and is a typical speed-type flow meter. Gas turbine flowmetre has the advantages of high measurement accuracy, high flexibility, , simple operation, and low failure rate. They are the mainstream gas measurement methods in the field of gas measurement. With the deepening of understanding, the application of flow meters has gradually expanded to oil fields, chemical companies, urban gas and large-scale natural gas projects.
3" gas turbine flowmeter Features
3" Vortex gas flow meter
Vortex shedding flow meter is operated on the Karman principle. It is mainly used for flow measurement of industrial pipeline medium fluid, such as air, gas, liquid, steam.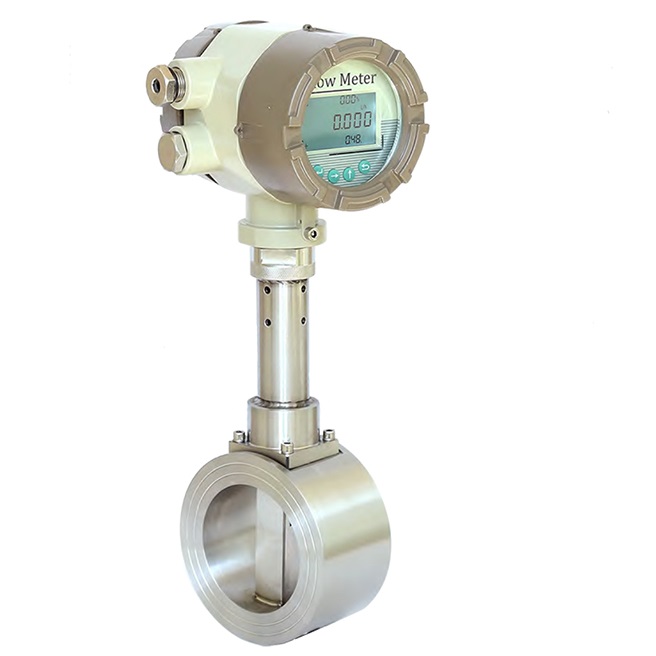 Features of 3" vortex gas flow meter
✔

Small pressure loss,

✔

Large measuring range for 3 inch gas flow meter, 70-640 m3/h, output frequency 45-417 Hz

✔

High accuracy for 80mm vortex flow meter for gas measurement: 1.5%

✔

It is hardly affected by gas density, pressure, temperature, viscosity and other parameters when measuring volume flow under working conditions.

✔

No moving mechanical parts, so high reliability and low maintenance

✔

Gas flow meter can be operating at temperature range of -20 ° C to + 250 ° C,it can measure high temperature gas flow rate

✔

Electronic gas vortex flow transmitter

has analog standard signals and digital pulse signal output. It is easy to use with digital systems such as computers. It is a relatively advanced and ideal measuring instrument.