What is gravity feed flow meter?
Gravity feed flow meter means a kind of flow meter can run via gravity feed system without pump to push more pressure to run the fluids. This kind of flow measurement can be a little difficult and tough job, because the flow rate and flow velocity is small, and the fluid is not full of pipeline, not all flow meters can detect the low flow at low pressure condition. However oval gear flow meter is a kind of gravity feed flow meter , but this kind of flow meter still needs the liquid fill the pipeline when measuring the flow rate, also the liquid could run ( not static) on the pipeline with the only help of gravity feed system.
How gravity feed flow meters work?
Gravity feed flow meter uses mechanical measuring elements to continuously divide the liquid into a single known volume part, and measures the total flow volume according to the number of times that the metering chamber is filled and discharged with the volume part of the liquid successively and repeatedly.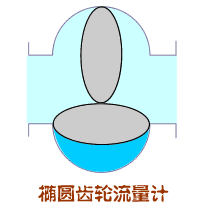 Gravity feed flow meters applications
Gravity feed flow meters can work on below liquid applications; it can measure below liquid flow rate and total flow:
Heavy oil, polyvinyl alcohol, resin, crude oil, diesel, gasoline, kerosene, light oil, asphalt, lubricating oil, vegetable oil, petroleum, residual oil, motor oil, fuel oil ,heat transfer oil, hydraulic oil, syrup, water . The liquid should be clean without any solids or particles.
Features of gravity feed flow meter
High accuracy gravity flow meter with accuracy from 0.5% to 0.2%;
Gravity feed flow meter is a kind of perfect performance on high viscosity liquid flow measurement;
Gravity feed flow meter can be a direct-reading flow meter without any power supply.
Gravity feed flow meter can be made into digital flow meter with electronic reading display , pulse output , 4-20mA output, HART and Modbus RTU.
Low pressure loss
Low price cost flow meter price starts from 150 $
Technical specifications of gravity feed flow meter
Fluids can measure: clean liquid
Gravity feed flow sensor size:1/2",3/4inch,1 inch, 40mm,2inch,3",4",6",8",10inch,
Liquid temperature range for gravity feed flow meter: -20°C-200°C
Pressure Rating for gravity feed flow meter: JIS 10K, 20K; ANSI 150LB, 300LB; PN16, PN20, PN40, PN64;
Process connection: Flanged
Inline industrial flow meter
Material options for gravity feed flow meter: cast iron, cast steel, SUS 304, stainless steel 316
Gravity feed flow transmitter can be with digital outputs for various process control purpose