LC-M series meter is positive displacement meter for liquids; it is a kind of bulk fuel flow meters. They are designed for bulk liquid metering both in transfer and process control applications; it is perfect for oil and fuels bulk flow measurement.
Working principle of Positive displacement flow meter
The meter consists of housing where two bladed displacement rotors and a central single blocking rotor turn in synchronized relationship within three cylindrical bores with no metal-to-metal contact within the meter element. Each rotor is supported on either end by a bearing plate through which the rotor shafts protrude.
The bladed displacement rotors, alternately move through the two half-cylinder bores of the meter element, while the single blocking rotor rotates within its bore in such a way as to produce a continuous capillary seal between the unmetered upstream product and the metered, downstream product.
At one end of each rotor shaft is a timing gear. The blocking rotor gear, having twice the number of teeth of each of the displacement rotor gears, rotates at half the RPM of the displacement rotors.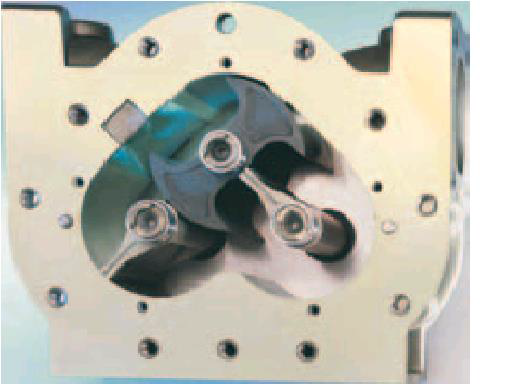 Advantages of LC-M series positive displacement flow meter
Excellent stepless adjusting mechanism allows a micro adjustment of the meter
High accuracy and repeatability over the wide strange of flow, superior accuracy at constant flow
Low maintenance, no metal-to-metal contact in measuring chamber, long life service Low pressure loss, a true gravity flow meter
High accuracy flow measurement regardless of pressure fluctuations, temperature variation, viscosity change
Positive displacement flow meter accessories include air eliminators, strainers, valves, and a choice of mechanical or electronic registers and printers for presetting, totalizing deliveries, and printing tickets.
Specifications of PD flow meter
PD flow meter sensor material: aluminum, cast iron and stainless steel
High accuracy PD flow meter: ± 0.2%
Repeatability: ≤0.07%
Flow Unit: Liter/US Gallon/IMP Gallon
Available PD flow meter size and flow range
40mm PD flow meter or 1.5": 25-250 L/min
DN50 positive displacement flow meter or 2 inch, 55-550 LPM
DN80 PD flow meter or 3 inch size: 506-5063 GPM ( US gallon per minute)
DN100 or 4 inch positive displacement flow meter: 748~7484 Gallon/minute
NB150mm or 6 inch PD flow sensor can deal 300-3000 liters per minute flow
Positive displacement flow meter applications
Flow measurement for aviation fuels, solvents, fuel, gasoline,diesel, Bio-diesel, liquefied petroleum gas (LPG), crude oil flowmeterl, train and rail car refueling, refueling mining and plant vehicles, and ship and boat refueling. also for heated and/or viscous liquids; tank wagons delivering fuel to homes for domestic heating or gasoline to service stations; bobtails delivering LPG to homes and farms; and aviation refuelers delivering avgas or jet fuel into aircraft.
Check of loading/unloading operations of fuel and petrochemical products in fuel bulk plants and/or refineries
On truck tanker for fuel/LPG transport and delivery
Heavy duty fuel dispensing system for big vehicles and airplanes
Accesories for positive displacement flow meters