Flow meter type
Electromagnetic flow meter can be used as acid resistance flow meter to measure hydrochloric acid, it is a kind of volumetric & in line flow meter.
Principle
Faradays's law. Formula: E=k*B*D*V. The induced voltage (E) is directly proportional to the velocity (V) of the liquid passing the magnetic field (B). The induced voltage is transmitted to the mag meter converter through the electrode circuit.
HCL flow meter Features & Specifications
Lining material: PTFE or PFA
Flowmeter electrodes material: tantalum electrodes
Flowmeter housing material: carbon steel or stainless steel
Process connection: flange or tri-clamp
Accuracy: pipeline type 0.5% or 0.25%
Flow rate range: 0.2~8m/s
Working pressure: 1.6MPa
Ambient temperature: -40 ° C ~ +50 ° C
Explosion-proof: ExmibdIIBT4
External magnetic interference: ≤400A/m
Protection Level : Compact type IP65, remote type IP67 or IP68
Output signal: 4 ~ 20mA.DC, load resistance 0 ~ 750Ω
Communication output: RS485 or CAN bus
Electrical connection: M20 × 1.5 internal threads, φ10 cable hole
Power supply voltage: 90 ~ 220V. AC, 24 ± 10% V.DC
Power consumption: ≤10VA
Hydrochloric acid flow meter size and flow range
You can refer to below table and choose the proper type HCL flow sensor size according to the flow range:
Size(DN)

Pressure

Min flow range

velocity(0-0.5)m/s

Max Flow range

velocity(0-10)m/s

10

4.0 Mpa

(0-2.25)L/min

(0-45)L/min

15

4.0 Mpa

(0-5)L/min

(0-100)L/min

20

4.0 Mpa

(0-7.5)L/min

(0-150)L/min

25

4.0 Mpa

(0-10L)/min

(0-200)L/min

32

4.0 Mpa

(0-20L)/min

(0-400)L/min

40

4.0 Mpa

(0-30L)/min

(0-600)L/min

50

4.0 Mpa

(0-3)m³/h

(0-60)m³/h

65

4.0 Mpa

(0-6)m³/h

(0-120)m³/h

80

4.0 Mpa

(0-9)m³/h

(0-180)m³/h

100

1.6 Mpa

(0-12)m³/h

(0-240)m³/h

125

1.6 Mpa

(0-21)m³/h

(0-420)m³/h

150

1.6 Mpa

(0-30)m³/h

(0-600)m³/h
Installation of hydrochloric acid flowmeter
In order to make the electromagnetic flowmeter work stably and reliably, the following aspects should be noted when selecting the installation location:
1. Try to avoid ferromagnetic objects and equipment with strong electromagnetic fields (large motors, large transformers, etc.) to prevent the magnetic field from affecting the working magnetic field and flow signal of the sensor.
2. It should be installed in a dry and ventilated place to avoid sun and rain. The ambient temperature should be -20~+60°C, and the relative humidity is less than 85%.
3. There should be plenty of space around the flowmeter for easy installation and maintenance.
4. The HCL sensor can be mounted horizontally and vertically, but it should be ensured that the effects of deposits and bubbles on the measuring electrode are avoided and the axial orientation of the electrode is kept good. When installed vertically, the fluid should flow from bottom to top.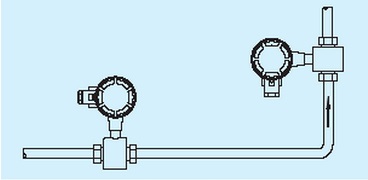 5. The sensor cannot be installed in the highest position of the pipe, which is easy to accumulate air bubbles.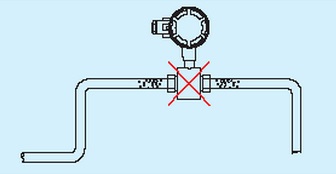 6. Ensure full pipe installation
Make sure that the flow sensor is full of the liquid hydrochloric acid under test when measuring, and that the non-full tube state cannot occur. If the pipe is not full or the outlet is vented, the sensor should be mounted on a siphon.


7. Installation between elbows, valves and pumps
In order to ensure the stability of the measurement, a straight pipe section should be provided before and after the sensor, and the length is given by the following figure. If this is not possible, a stabilizer should be used or the cross-sectional area of the measuring point should be reduced.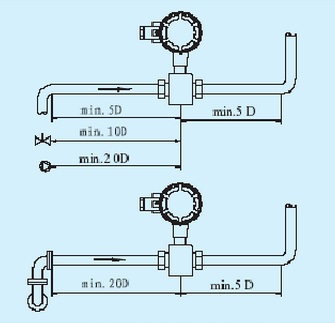 8. The sensor cannot be installed in the water inlet of the pump
To avoid negative pressure, the sensor should not be installed in the pump's water inlet, but should be installed in the pump's water outlet.
9. Sensor inlet straight pipe section and outlet straight pipe section
For an ideal installation location, there should be enough straight pipe sections before and after the measurement point. The inlet straight pipe section should be ≥5D, and the outlet straight pipe section should be ≥3D (D is the sensor nominal diameter). The plug-in inlet straight pipe section should be ≥ 20 D and the outlet straight pipe section ≥ 7D (D is the sensor nominal diameter).