Inline oil flow meters measure the amount of oil passing through the meter. Each flow meter does the same job but achieves it by different methods. Oil flow measurements keep plants operating safely and provide monitoring information over usage and production.
Oil comes in many forms, from thick lubrication oil, viscous heavy oil, fuel oil, heating oil, engine oil, furnace oil to food oils like sunflower and olive. An inline flow meter is installed into the pipeline to provide measurements of volume and other factors.
Choosing an Inline Flow Meter
Flow Meter Features
·

The vital criteria for an inline oil flow meter are:
· Accuracy – if you need a measurement of flow rate and volume, it needs to be precise.
· Repeatability – the same conditions give the same reading.
· Large turndown ratio – gives the biggest range between maximum and minimum flow measurements.
· Food safe – if measuring oils in the food industry, such as palm oil, vegetable oil.
· Budget – includes the cost of purchase (or hire), installation, maintenance, life expectancy, and operating costs, such as the need for a power supply.
Properties of Oil
The best flow meter depends on the type of oil and the conditions, as many factors will affect the way the oil flows through the pipe. These features include:
· Density – is it a heavy or light oil.
· Viscosity – is it thick viscous or thin oil.
· Temperature – some flow meters are better at measuring high-temperature liquids.
· Pressure – pumping the oil through the pipes requires a degree of force.
· Condition – are there bubbles or solid particles present in the oil.
· Contaminants – alter the properties of the oil and flow rate.
· Consistency of flow – is it steady or pulsing.
· Flow rate range – the flow meter works between a maximum and a minimum range for accuracy.
· Corrosion – the contaminants in crude oil can cause corrosion of components in the flow meter.
On-Site Use
The selection of the right flow meter will depend on the site, some flowmeters need a straight run of pipe feeding into and out of the meter and most do not work well at an angle. Ease of maintenance and access may make one flow meter a better choice compared with another for a site.
Types of Inline Flow Meter for Measuring Oil Flow
Turbine Flow Meter-to measure clean oil with low viscosity
This mechanical flow meter consists of a free-spinning turbine. The oil flowing through the pipe causes the turbine to rotate. A sensor picks up the frequency of rotation and this converts to a measurement of flow rate. The diameter of the pipe and the flow rate give a volumetric measure per minute.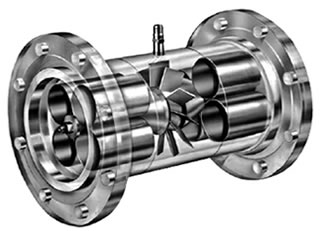 Pros:
· Low cost
· Straightforward installation
· Simple to operate
· Easy Maintenance.
Cons:
· Less accurate with high viscosity oils
Vortex Flow Meter to measure oil flow rate
A vortex flowmeter uses the creation of vortices to measure oil flow.
Pros:
· Few moving parts – less wear and less maintenance.
· Reliable and accurate
· Works over many temperature ranges.
· Works for many pipe sizes, but the cost increases for larger diameter pipes.
· Low installation cost.
Cons:
· Not accurate with slow-moving oils.
· Needs a minimum straight pipe length before and after the meter.
Coriolis Flow Meter to be used as digital oil flow meter
A Coriolis flowmeter uses the degree of twist generated when the oil flows through a vibrating tube to measure mass flow,it is a kind of in-line oil mass flow
Pros:
· Accurate measurements
· Extremely low maintenance.
· It can also measure temperature and density.
· Reliable.
· Hygienic oil flow meter with the use of food-safe materials.
· It doesn't need inlet and outlet sections.
· It will operate in either direction of flow.
· Temperature, viscosity, and pressure do not impact on the accuracy of the readings.
· Can work on high viscosity oil flow rate measurement
Cons:
· Smaller pipe sizes up to a maximum of 8" diameter for best results, but larger sizes are available for a price.
· Expensive.
· Requires careful installation to avoid problems with vibrations affecting the readings.
· Sensitive to bubbles in the flow resulting in less accurate readings.
Oval Gear Flow Meter to measure oil
The oval gear flow meter operates on the positive displacement of the oil and is one of the most accurate flow meters.
Pros:
· The oil acts as a lubricant and provides ideal operating conditions for the oval flow meter.
· Can be used as mechanical oil flow meter or can it also can be flow meter with transmitter
· Excellent repeatability.
· Excellent accuracy.
· It does not need a straight pipe run and installs easily in cramped spaces.
· Excellent with high viscosity oils, such as heavy oil, crude oil, gear oil
· It provides direct reading and does not need a power source.
· Large turndown ratio typically 10:1
Cons:
· Best with small to medium-sized pipes because the construction is bulky and heavy.
· Limited temperature range because the gears distort at low and high temperatures.
· Needs to work with clean oils.
· It causes vibration and noise.
· It needs a bypass system to detect blockages because the pressure will build up if the gears stop turning.
Rotameter to measure oil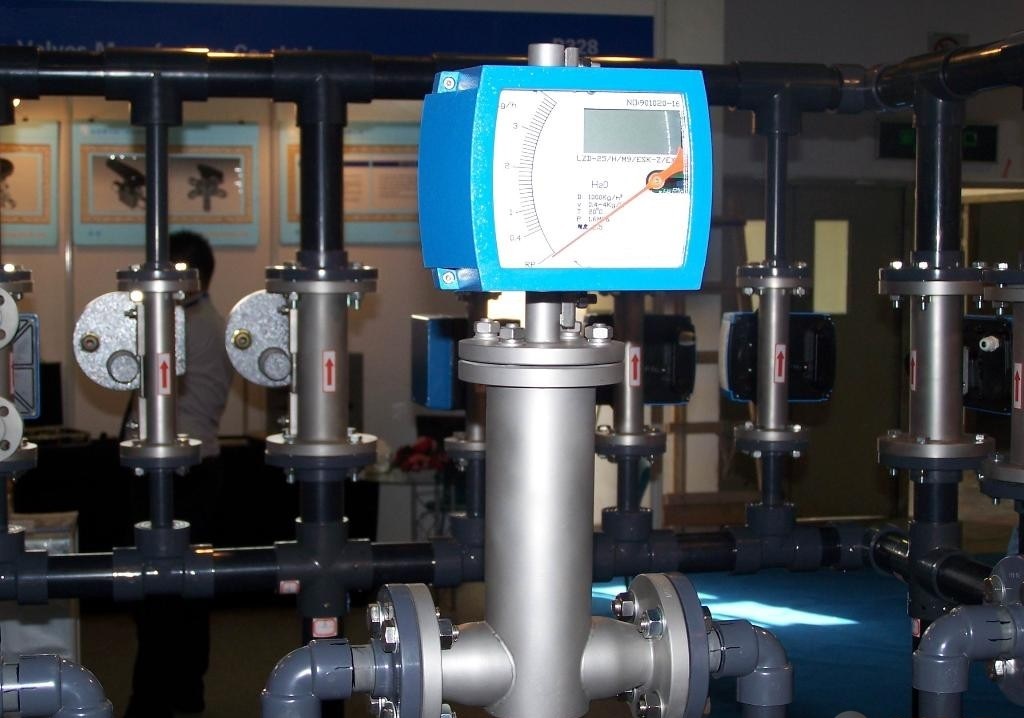 A rotameter is a kind of variable area flow meter operates with a weighted float in a vertical tapered tube.
Pros:
· Low cost
· Low maintenance.
· It does not require a power supply, but we have VA flow meter with transmitters
· Straightforward to read the results.
· Excellent range.
· It provides accurate readings at low flow rates.
· Clear to see it working.
· It works with any viscosity of oil – with the right float.
Cons:
· Its use is limited to smaller diameter pipes.
· Not able to use it with high pressure.
· The accuracy of the reading is between 1% to 10% of the scale.
· Difficult to automate readings or to provide a continuous flow reading.