Why need formation water level measurement
Formation water, condensate refers to the general term for edge water and bottom water at the edges and bottom of the reservoir, interlayer water, and bound water in the same layer as crude oil.
The chemical composition of formation water inevitably reflects certain characteristics of oil and gas reservoirs and crude oil and natural gas. Therefore, studying the properties of formation water (oil and gas field water) and formation water level measurement, its geochemical exploration is useful for distinguishing oil and gas field water from non-oil and gas field water, and analyzing oil and gas migration and accumulation. The formation of oil and gas reservoirs, the evaluation of oil and gas prospects, and making exploration and development decisions are all of great significance.
In addition, because the oil and gas field water is possible industrial mineral water, and the oil and gas field water often contains various chemical components (such as salt, trace elements and various ions, etc.), it can be used for industrial purposes after concentration and purification, which will produce significant economic Benefits and social benefits. Therefore, formation water level sensor is also needed. Micro pulse level radar can be used to detect level.
Formation water, condensate measurement- micro pulse level radar transmitter
Guided wave radar level gauge is a microwave level gauge, which is an application of microwave (radar) positioning technology. It transmits energy waves through a device that can emit energy waves (usually pulse signals). The energy waves are transmitted in the waveguide. The energy waves are reflected by obstacles. The reflected energy waves are transmitted from the waveguide to the receiving device. The receiving device receives the reflected signal.
Radar level transmitter is a kind of continuous liquid level measurement; level sensor is the continuous measurement of liquid level, which is widely used in petroleum, chemical, food processing and many other fields. Formation water, condensate level sensor normally needs high pressure level sensor; also level detector needs stainless steel wet parts material for liquid level measurement in harsh environments. The level mesurement is not affected by condensate temperature, steam, dust, foam, etc.
Technical specification of formation water level transmitter
Level range: max 6m
High pressure micro pulse radar level transmitter for formation water: 6.3Mpa, 10Mp, max 400 bar
High temperature radar level meter: max 400 ℃
Accuracy for micro pulse level radar meter: ±3mm
Radar level transmitter frequency range : 100MHz~1.8GHz
Explosion Proof:/ hazardous area classification : Exia IIC T6 Ga
NEMA enclosure : IP67
Output: Current 4-20mA or HART protocol
Casing for radar level sensor: all stainless steel
Probe: single core diameter 16mm
Digital level transmitter: LCD to show condensate level value
Drawing for Formation water level transmitter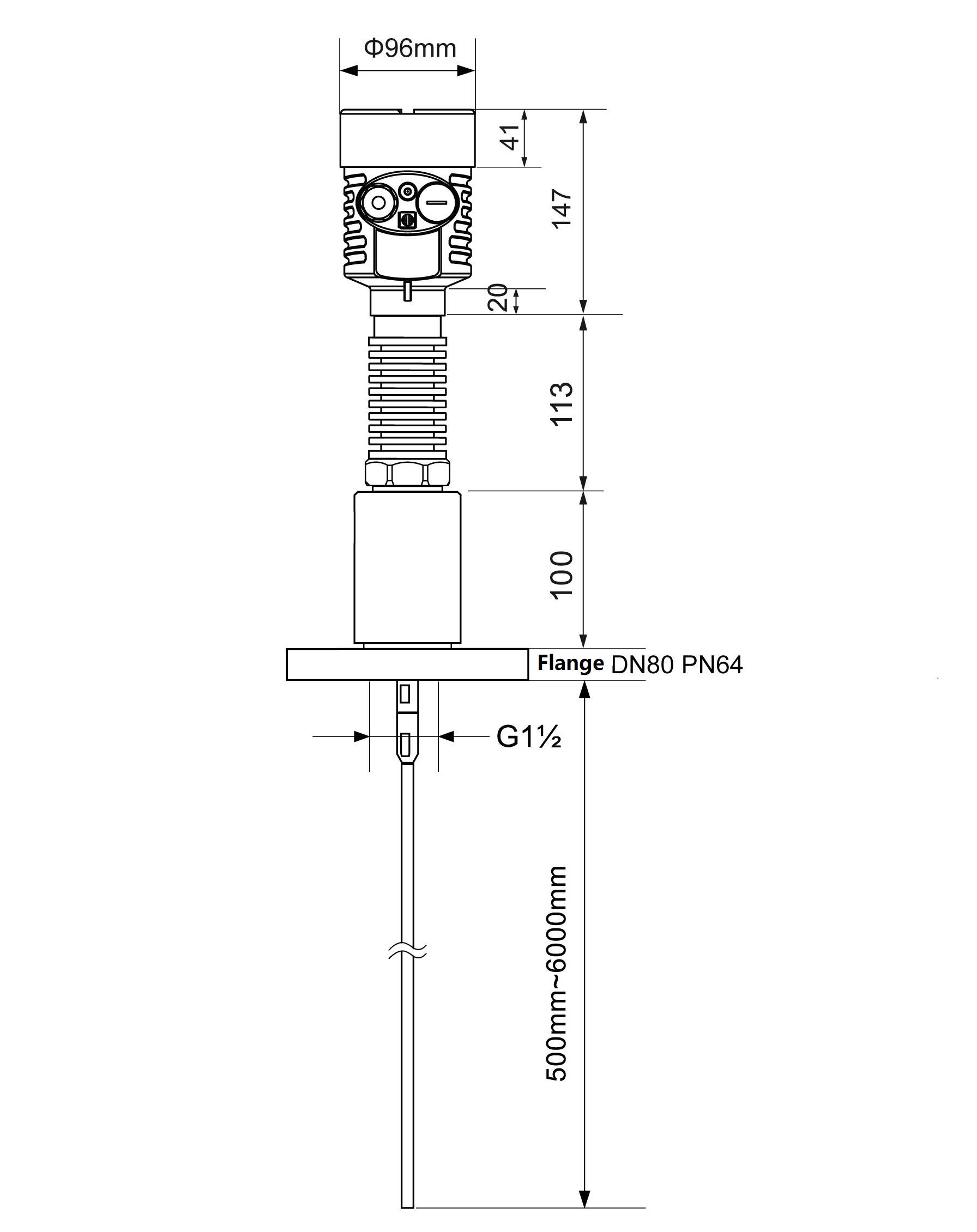 Formation water level transmitter price
The price of the formation water radar level gauge is generally higher than that of the ordinary radar level transmitter, because the formation water level measurement is generally a high-pressure level sensor, and micro pulse radar level transmitter material is also a stainless steel shell. The price of each brand is also different, such as VEGA, EMERSON, the price is not cheap, if you buy from SILVER, the price is generally about 2200 US dollars. Chinese level transmitter factories have low prices and fast delivery. Welcome to send email (sales@silverinstruments.com ) to us to obtain the price for your application.