Economical Bourdon Tube Pressure Gauge Overview
Y series Economical bourdon tube Pressure Gauge is suitable for the non-explosion, non-crystal, non-solid and non-corrosion to the copper alloy.
The pressure system consists of socket, bourdon tube and transfer mechanism and show the value through the pointer. Bourdon pressure gage is with cheap price and is widely used in many industrial pressure measurement areas. We are a China Pressure Gauge Manufacturer, welcome to send inquiry to ask for the pressure gauge price.
Bourdon Type Pressure Gauge Specifications
Accuracy: Φ60,±2.5%;Φ100,Φ150,±1.6%
Working pressure: Steady: 3/4 of full scale value. Fluctuating: 3/2 of full scale value. Short time: full scale  value.
Ambient temperature for bourdon manometer : -40 ~70 °C  (Relative humidity ≤85%)
Temperature impact: The temperature change is not more than 0.6%/10°C When the temperature deviates from 20±5°C.
Pressure Gauge Connector material: Brass
Bourdon tube material: Brass
Pressure Gauge Case: steel with black plated
Dial: white aluminium dials with black marking
Bourdon Gauge Pointer: Aluminium, black.
Mechanical Pressure Gauge Window: plain glass, plexiglass.
Bourdon manometer Connection: Φ40/50 M10x 1; Φ60  M14x 1.5; Φ100,Φ150 M20x 1.5 Other threads available.
Φ60mm (2.5 inch Pressure Gauge) Dimensions   Unit (mm)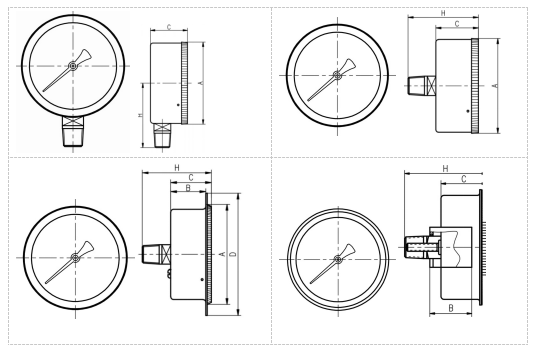 | | | | | | | |
| --- | --- | --- | --- | --- | --- | --- |
| Type code | A | B | C | D | D1 | H |
| Y-60AO | 68.5 | | 31 | | | 53.5 |
| Y-60ZO | 68.5 | | 31 | | | 51.25 |
| Y-60ZT | 72 | 25 | 29 | 88 | 79 | 49.5 |
| Y-60ZK | 72 | 26.5 | 29 | | | 52 |
Φ100 mm (4 inch pressure gauge),Φ150mm (6 inch pressure Gauge) Dimensions  Unit (mm)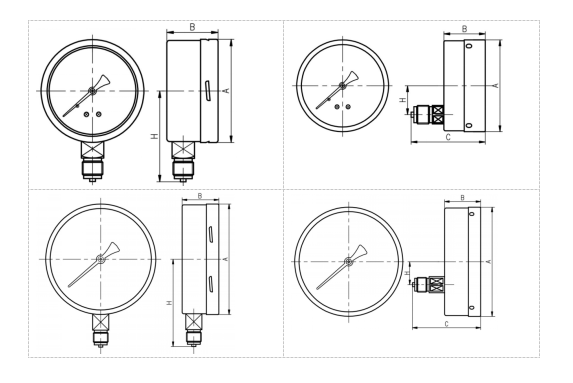 | | | | | |
| --- | --- | --- | --- | --- |
| Type code | A | B | C | H |
| Y-100AO | 101mm | 50mm | | 89mm |
| Y-100BO | 100mm | 45mm | 80mm | 31.5mm |
| Y -150AO | 150mm | 50mm | | 118mm |
| Y-150BO | 150mm | 50mm | 94.5mm | 31.5mm |

Economical Bourdon Tube Pressure Gauge Model Selection
Item

Code

Description

Basic Type

Y

EconomicalBourdonTypePressureGauge

Diameter

60

Φ60

100

Φ100

150

Φ150




Others

Pressure Gauge Mount

AO

Bottom mounting

AT

Bottom mounting withfront flange

AH

Bottom mounting with back flange

ZO

Back mounting

ZT

Back mounting with front flange

BO

Lower back mounting

BT

Lower back mounting with front flange

ZK

Back U clamp mounting

S

Others

Connection

C1

Thread M14×1.5

C2

Thread M20×1.5

C3

Thread 1/4NPT

C4

Thread 1/2NPT

Cx

Others

Range

M***

Refer to range table
Table of Ranges

Code

Ranges

Code

Ranges

Code

Ranges

M500

-0.1~0MPa

M030

0.1MPa

M180

4MPa

M510

-0.1~0.06MPa

M040

0.16MPa

M200

6MPa

M520

-0.1~0.15MPa

M060

0.25MPa

M220

10MPa

M530

-0.1~0.3MPa

M080

0.4MPa

M230

16Mpa

M540

-0.1~0.5MPa

M100

0.6MPa

M240

25MPa

M550

-0.1~0.9MPa

M120

1MPa

M270

40Mpa

M560

-0.1~1.5MPa

M140

1.6MPa

M280

60Mpa

M570

-0.1~2.4MPa

M160

2.5MPa






Table of Ranges

Code

Ranges

Code

Ranges

Code

Ranges

M500

-0.1~0MPa

M010

0.06MPa

M160

2.5MPa

M510

-0.1~0.06MPa

M030

0.1MPa

M180

4MPa

M520

-0.1~0.15MPa

M040

0.16Mpa

M200

6MPa

M530

-0.1~0.3MPa

M060

0.25MPa

M220

10MPa

M540

-0.1~0.5MPa

M080

0.4MPa

M230

16Mpa

M550

-0.1~0.9MPa

M100

0.6MPa

M240

25MPa

M560

-0.1~1.5MPa

M120

1MPa

M270

40Mpa

M570

-0.1~2.4MPa

M140

1.6MPa

M280

60Mpa













M290

100MPa