Microfluidic Flow Meter
LC-M Series Micro flow meter is a kind of positive displacement flow meter, it can detect ultra mini liquid flow as low as 0.5 ml/min, but can still keep accuracy as high as 0.5%F.S, It is a kind of micro PD flow meter for precise flow measurement of mini or low flow liquid, the liquid include water, diesel, fuel, lubricant, petrol, oil, chemical, sealant, toluene, glue, detergents, grease, electrolyte, ethylene, additive, syrup, acryiat-composite., etc . It is widely used in hydraulic system, lubricating industry and painting industries for fluids low-flow rate measurement.
Principle of LC-M Micro flow meter
There is a pair of gears meshing with each other as rotors in the cavity of the micro flowmeter, and the two gears and the chamber respectively form a fixed volume. Liquid flow is measured by calculating the number of flow through the standard volume within a certain period of time. it is a kind PD flowmeter for micro liquid flow measurement.


Micro flow meter Technical Specifications
High accuracy: +/-0.5FS
LC-M Microfluidic Flow Meter is suitable for liquid within 2000 mPa.s viscosity, micro flow meter for visous liquid;
Fluids temperature: -30~80°C,optional high temperature to 250 °C
Operation pressure: Standard 725 PSI, max 14503 PSI;
Output: Hall pulse output, NPN or PNP
Max frequency: 0.03 ml/p
Power supply: 4-26V DC
Process connection: Thread
Material: stainless steel 316L or aluminum or PPS
ml/min flow meter, flow units options: mL/s,mL/m,L/h,L/M

Micro flow sensor for liquid material
| | | |
| --- | --- | --- |
| | All stainless steel Series | Aluminum material series |
| Case Material | SS 316L | Aluminum |
| Gear material | SS 316L/PPS | Aluminum/PPS |
| Bearing material | SS 316L | SS 316L |
| Application | Low corrosive: water, polyurethane | Non-corrosive liquid: petro, grease |

Flow Range and Model for low flow liquid flow meter
LC-M2   Flow Range   0.5-150 ml/min
LC-M5.2   Flow Range   1-400 ml/min
LC-M5.1   Flow Range   1~800ml/min
LC-M6   Flow Range   0.5~100 L/H
LC-M9   Flow Range  6~600 L/H
LC-M12   Flow Range   0.3~30 L/min
LC-M25   Flow Range          0.5~100L/min
Dimension of microfluidic Oval Gear Flow Meter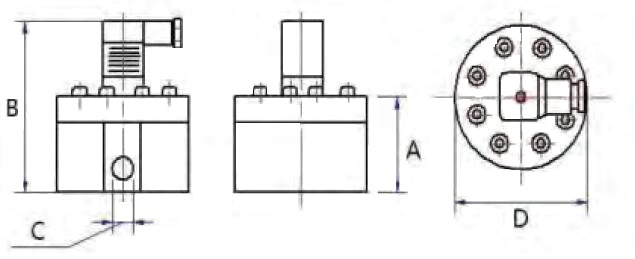 | | | | | | | |
| --- | --- | --- | --- | --- | --- | --- |
| MODEL | M2 M3 M5 | M2 M3 M5 High pressure | M6 | M9 | M12 | M25 |
| A | 30 | 30 | 40 | 47 | 44 | 56 |
| B | 62 | 62 | 72 | 72 | 79 | 91 |
| C | G1/8 | G1/8 | G1/4 | G1/4 | G1/2 | G1 |
| D | 40 | 50 | 50 | 60 | 85 | 100 |
| E | M5*31 | M5*36 | M5*42 | M5*52 | M5*72 | M6*61 |
Install information about ml/min liquid flow meter
Before installation, please read this part carefully, and make sure you really understand the meaning.
1. Before connecting the micro flow meter to the pipeline, be sure to connect the circuit to test whether the signal matches properly (the gear can be rotated by hand or by blowing the flowmeter through the mouth to check the pulse signal)
2. See the wiring diagram of the circuit (see Figure 1).
3. Before the flowmeter is connected to the pipeline, it is necessary to ensure that the pipeline is clean. It is better l to wash the pipeline first. It is recommended to install a filter of 200 mesh or more in front of the flow meter.
4. When connecting the flowmeter with a connector or adaptor, be careful that the PTFE tape or threaded glue should not be over-headed, otherwise it may cause the PTFE tape into the flowmeter to get the flowmeter clogged(see figure 2) .
5. Installation direction requirements (see Figure 3)