Clamp on ultrasonic flow meter Principle
Ultrasonic flow meters are based on the principle of ultrasonic time difference ranging, which calculates the flow rate by measuring the propagation time difference of ultrasonic signals in the upstream and downstream of the pipe section. There are no moving parts in the pipe section, which has lower pressure loss and higher accuracy. Clamp on flow meter from Silver Automation Instruments at low price but with reliable performance, we buy directly from clamp on ultrasonic flow meter manufacturers in China. We have portable type, wall mount type, panel mount type, handheld type ultrasonic flow transmitters for customers.
Clamp-on flowmeter is easy for mounting demanding no pipeline shutdown and no liquid interruptions or downtime. It is also economical solution since its cost is independent of pipe size , material, and pressure rating.
The clamp-on ultrasonic flowmeter uses external clamp-on sensors to measure liquid flow. It can measure drinking water, river water, sea water, cooling water, hot water, diesel, fuel oil, , etc. Customers like to buy clamp on water flow meter for its economical cost also easy installation.
Portable clamp on ultrasonic flow meter & Wall mount clamp on ultrasonic flow meter pictures
| | |
| --- | --- |
| | |
| Portable clamp on ultrasonic flow meter | Wall mount clamp on ultrasonic flow meter |
Features:
● Non-contact measurement method, ultrasonic clamp on water flow meter has small size, light weight and portable clamp on ultrasonic flow meter is easy to carry.
● The installation of the ultrasonic clamp on sensor is simple and easy
● There is no need to destroy the pipeline during the measurement process, no need to stop production, the clampon flow meter does not contact the measured medium, and there is no pressure loss.
● Suitable for measuring metal pipes, plastic pipes, PVC ,cement pipes,and other sound-permeable pipes.
● Built-in rechargeable battery, can work continuously for more than 12 hours. Option with 24V DC or 220V AC power supply
● Clamping ultrasonic flowmeter price is low
Technical parameters for Clamp on ultrasonic flow meter
Accuracy: ±1.0% of measured value
Repeatability: 0.2%
Velocity range: 0~±5 m/s
Communication interface: RS485 communication interface. Support Modbus protocol
Analog output: 4~20 mA, *load 750 Ω
OCT pulse output: 0~5000 HZ
Protection level: IP65
Ambient temperature: temperature -10°C~+50°C
Relative humidity 0~99%, no condensation
Material: ABS plastic
Keyboard: 16 (4×4) touch keys
Display: dot matrix characters, backlit LCD display
Display content: positive and negative flow measurement, instantaneous flow, cumulative flow or velocity
Portable Digital Ultrasonic Flow Meter Kit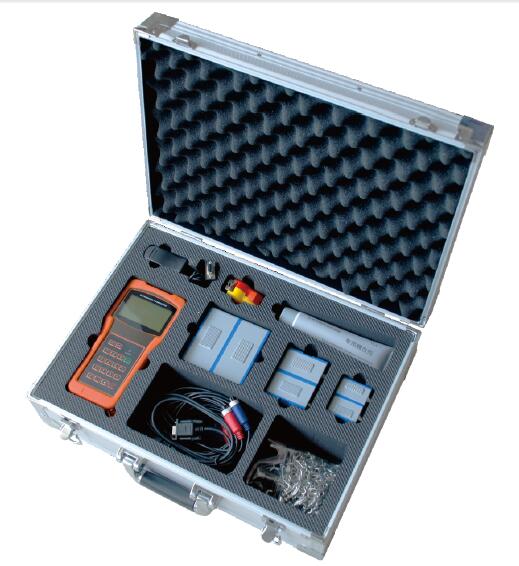 Ultrasonic flow meter transducers
1 x Set 5m Ultrasonic Signal Cables
1 x Power Card
1 x Stretcher Set
1 x Tape Ruler
1 x Data Line
1 x User Manual
1 x Aluminium Carry Case