Capacitance Pressure Transmitter Overview
SH Series industrial digital Pressure/Differential Pressure Transmitter is a multipurpose digital pressure transducer developed by Silver Automation Instruments., including capacitance pressure sensor /differential pressure transmitter and direct-coupled pressure/fluid level transmitter. Pressure transducer manufacturer makes them on the basis of the mature and dependable sensing technology, combining the advanced single-chip computer technology and sensor digital exchange technology.
16-bit single chip is adopted as industrial pressure transmitter core element, with its powerful function and high-speed calculation capacity ensuring the excellent quality of the pressure transmitter. The whole design frame focuses on pressure transducer dependability, stability and high precision and intelligentization, meeting the growing demand in on-site industrial pressure measurement use. To get this goal, digitalized signal processing technology is used in the software to ensure pressure transducer disturbance capacity and zero point stability. Meanwhile, it has the Zero Stability Capacity (ZSC) and Temperature Supplementing Capacity (TSC). As a China pressure transmitter supplier, we provide cheap pressure transmitter/ differential pressure transmitter but with good quality.
The powerful interface functions guarantees an excellent interactivity with no need of manual operator. It is pressure indicating transmitter, can display 3 physical parameters including pressure, temperature and current, and 0-100% analogue indications. Keystroke operation can finish the basic settings of zero transfer, range setting, damping setting under the circumstance of no standard pressure, greatly convenient for the on-site debugging.
SH series digital Pressure transmitter / Differential Pressure Transmitter has the optional HART module. After the pressure transmitter is added the HART module, the pressure transducer has HART communication capacity, with the conventional operation being controlled with the general manual operator. The special communication equipment and soft- ware provided by our company can operate the marking and temperature supplementation actions.
SH series Digital Pressure transmitter / Differential Pressure Transmitter can be widely used in the sectors such as petroleum, chemical, iron & steel, power supply, light industry and environmental protection, capable of realizing the measurement of various gauge pressures, differential pressures, flows and fluids, adaptable for all kinds of harsh and hazardous environment and corrosive agents.
Features of Capacitance Pressure Transmitter
High accuracy
No mechanical and movable parts, little maintenance work
Span and zero continuous and adjustable from outside
Good stability for capacitive pressure sensor
Positive shift amount to 500%; Negative shift 600%
Two-wire system 4~20mA DC,it is analog pressure sensor
Damping adjustable, overpressure protection
Solid components, patch-type printed circuit board
Explosion-proof structure, all-day use
Unified structure, strong interchangeability of parts
Miniaturization(total height 166mm)
Diaphragm materials of contacting mediums option (316L, TAN, HAS-C, MONEL, etc.)
smart HART protocol
Working Principle of Capacitance Pressure Transmitter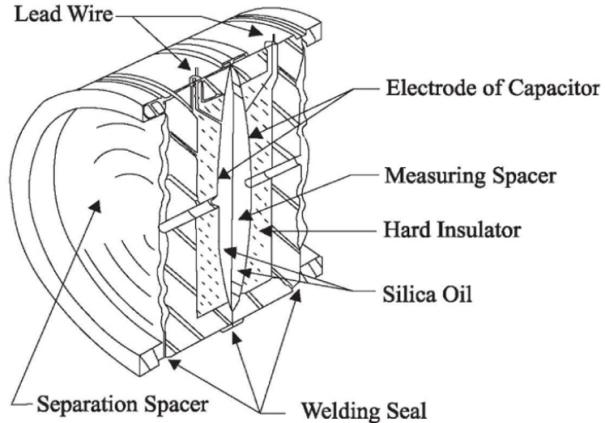 Pressure or differential pressure will cause some changes in the pressure sensor resistance value and the output value of bridge voltage. Through A/D conversion, pressure sensor will change into the digital signal which is sent to the microprocessor for calculation; then a current control signal will be output to the current control circuit, converted into analogue 4-20mA current output. Meanwhile, the microprocessor is responsible for the interactive and other actions (display and setting).
Function Parameters of Capacitance Pressure Transmitter
Service: Liquid, gas and steam
Measuring range : 0~0.06 kPa to 0~40Mpa
Output signal : 4~20mA DC (four-wire 220V AC power supply, 0~10mA DC output options)
Power supply : 12~45V DC, generally 24V DC.
Loading characteristic: relation equation of loading impedance RL and power voltage Vs: RL <= 50(Vs-12) (see right figure for load characteristic)
Indicator: pointer-type linearity indication 0 ~ 100% scales or LCD indicator, LED indicator.
Explosion proof: a. Explosion isolation  d II BT4 ; b. Intrinsically safe ia II CT6
Positive and negative shifts:
After positive and negative shifts of zero point, absolute values of upper-and-lower-limit values of span and measuring range should not exceed 100% of upper limit of measuring range.( smart type : turn down ratio 15:1) ;

Maximum positive shift is 500% of minimum adjusting span;

Maximum negative shift is 600% of minimum adjusting span.
Amplifier operation temperature range: -29 ~ +93°C

Measuring component of fill silicone oil: -40 ~ +104°C

Flange type transmitter fill hi-temperature silicone oil: -20 ~ +315°C

normal silicone oil: -40 ~ +149°C
Static pressure : 1,4, 10, 25, 32Mpa
Humidity : relative humidity 0~100%RH
Volume absorption : < 0.16cm3
Damping (phase step response) : When filling silicone oil, generally between 0.2s and1.67s, continuous and adjustable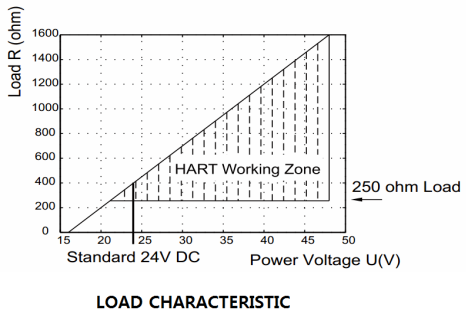 Technical Data of Capacitance Pressure Transmitter
(Under following condition: no shift, in standard operation conditions, fill silicone oil, 316 SS diaphragm)
Accuracy: +/-0.075%,+/-0.1%,+/-0.25%,+/-0.5%
Dead zone: no (<=0.1%)
Stability: within 6 months not beyond absolute value of basic error of maximum span
Vibration effect: on a random ax upward, at vibration frequency of 200 Hz, error +/-5%/g of upper limit of measuring range.
Power effect: < 0.005%/V of output span
Loading effect: no effect from loading at stable power
Effect of installation position: Max 0.24kPa of zero error but adjustable, no effect on span
Other details of Capacitance Pressure Transmitter
Diaphragm: 316 SS, Hastelloy C -276, Monel or Tantalum
Exhaust/vent Valve: 316 SS, Hastelloy C or Monel
Flange and Connector: 316 SS, Hastelloy or Monel
"O" ring: acrylotrile-butadiene rubber, fluorine rubber
Fill liquid: silicone oil or inert oil
Blot: 316 SS
Electronic Body Material: low copper-aluminum alloy
Process connection:
Flange NPT 1/4, center distance 54mm;

Process connector NPT 1/2 or M20 ×1.5 male round-cone surfaces sealed, when carrying connector the center distance 50.8, 54, 57.2mm (NPT taper thread accords with GB/T12716-91)
Electrical Connection: G 1/2"
Weight: 4.5 kg (standard type)
Dimensions of Capacitance Pressure Transmitter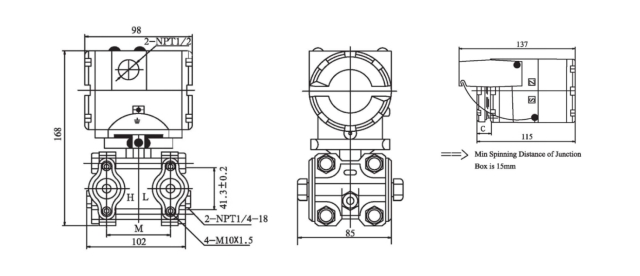 Size of M






M

*Type

1200

1300

1400

1500

1600

1700

1800

1900

1000

2300

Size(mm)

54

55.6

57.2

58.4

59.2

54

*Type

2400

2500

2600

2700

2800

5600

6600

7600

8600

9600

Size(mm)

54

55.6

57.2

55.6

5700

6700

7700

8700

9700

6800

7800

8800

Size(mm)

55.6

57.2
Note: *Type: see the selection codes for detailed information of types