Liquid turbine flow meters is for measuring clean, steady and medium-to-high speed flows of low-viscosity fluids, such as diesel, water, kerosene, gasoline, fuel ,etc. Silver Automation Instruments supply threads connection liquid turbine flow meter.
How the turbine flow sensor work?
Turbine flow meters use the mechanical energy of the liquid to rotate a rotor in the flow stream. The rotational speed of the rotor is directly proportional to the velocity of the fluid travelling through the turbine flow sensor.
Features & Specification
✔
In-line digital flow meter sensor
✔
Thread connection from DN4 to 2", or other sizes available
✔
Standard thread G standard, or other thread is available, such NPT thread
✔
High accuracy: 0.5% or 1.0% of Reading
✔
Large turn down ratio: 10:1
✔
Compact construction
✔
Material: 304 or 316 stainless steel, all stainless steel flow meter
✔
Low price cost digital liquid flow meter
✔
Volumetric flow meter
Thread Liquid turbine flow meter size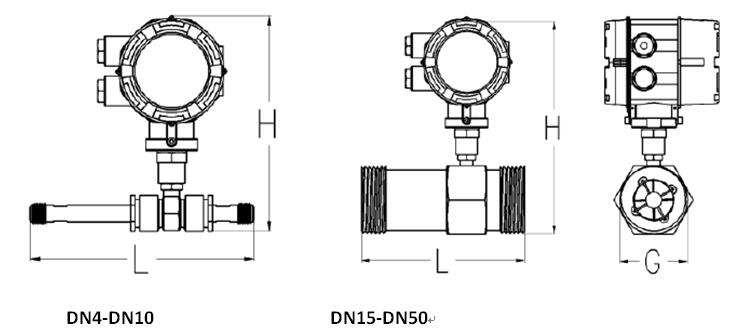 Diameter

(mm)

L

(mm)

H (mm)

G male Thread

Pulse

Pulse with Ex

4-20mA with Ex

Digital Display

4

225

140

145

145

210

G1/2

6

225

140

145

145

210

G1/2

10

345

145

150

145

210

G1/2

15

75

145

150

150

215

G1

20

80

150

155

155

220

G1

25

100

155

160

160

225

G1-1/4

32

140

175

180

180

245

G2

40

140

180

185

180

250

G2

50

150

185

190

190

255

G2-1/2
(Note: Straight pipe included only for DN4-DN10)