Flow measurement is important for efficient process monitoring in sanitary environment such as milk, beverage, wine, distillery, spirits, diary, food and pharmaceutical industries. These flow meters should be 304, 316 or even 316L stainless steels material, 3A, tri-clamp or tri-clover quick connector, Silver Automation Instruments supply low price sanitary rotameter, sanitary turbine flow meter, hygienic magnetic flow meters , sanitary positive displacement flow meters, these flow meter can be mechanical type or digital types.

Electromagnetic
Flow meter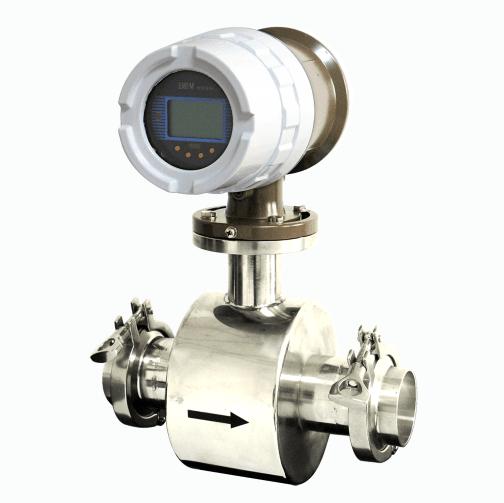 The food industry due to product hygiene and sanitary requirements, the need to disinfect the process pipe regularly with disinfectant media, the media used are hot water, steam, caustic soda and hydrogen peroxide. In this regard, we need to pay attention to the use of the above medium with a higher temperature sterilization process, which is with the electromagnetic flow meter lined with a certain risk, if the operation is a little careless, easy to damage the instrument.
From the anti-corrosion, temperature and health point of view, the electromagnetic flowmeter lining material selection of PTFE or PFA for the majority of food industry users. In actual use, the air in the process piping expands due to the higher temperature medium and prolonged flushing, while the PTFE/PFA lining softens. If at this time installed 3A sanitary flowmeter valve on both ends of the pipeline by mistake, the pipe temperature drops over time, the tube air or liquid also will produce a negative pressure to damage the lining. Electromagnetic flowmeter lining on negative pressure bearing capacity and process parameters, and the lining material characteristics vary.
Mag meters Special Features for Food & hygienic Industry.
a.PTFE or PFA liner for hygienic purpose or high-temperature sterilization process.
b.Sanitary process connection, most are tri-clamp connection, for easy install and easy maintenance. Process connection material is stainless steel.
c.Case or Housing material option with stainless steel material upon request from customers.
d.All wet parts material is PFTE/PFA or stainless steel.
e.It can be used in water, milk ,juice, mineral water, rice wine, soy sauce.,etc flow measurement.
Sanitary/ hygiene turbine flow meter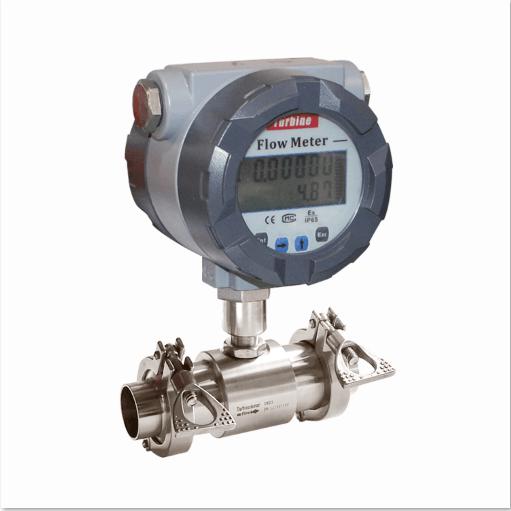 Sanitary/ hygiene turbine flow meter is a widely used in the pharmaceutical, food, beverage and other industries, as the metering, ingredients, control, product filling flowmeter and other purposes. Sanitary turbine flow sensor shell is made of stainless steel, the movement part of the use of special materials, with good anti-corrosion, anti-rust ability. The entire santiary turbine flow meter structure has the advanced structure optimization design, greatly improving the accuracy and repeatability of the instrument. Specially designed for the pharmaceutical and beverage industries, using a tri-clamp sanitary connection structure for easy cleaning. Sanitary turbine flow meters have reached the international standard of similar products, is the ideal instrument for the health industry.
Features :
a.International standards, to replace similar branded products;
b.anti-corrosion rust-proof material, suitable for the food sanitary industry;
c.Tri-clamp structure,SMS connection, easy to install and maintain;
d.Santiary turbine flow meter has high precision, good repeatability;
e.Different flow range for special different applications.
Vortex Flow meter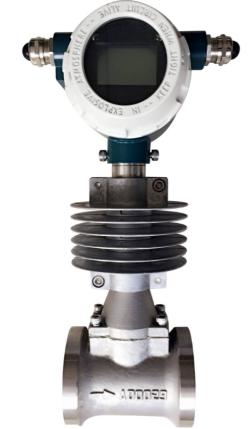 a.Intelligent Vortex Flow meter is piezocrystal built in bluff body to avoid fluid turbulence caused by external type, no zero drift, and high reliability.
b.Medium: hot water, saturated steam ,over heated steam, gas ,water, equip RTD and pressure transmitter to have temperature and pressure compensation for steam measurement.
c.Construction Material: 304 SST
d.Max medium temperature: 350℃
Coriolis Mass Flow Meter
For Food application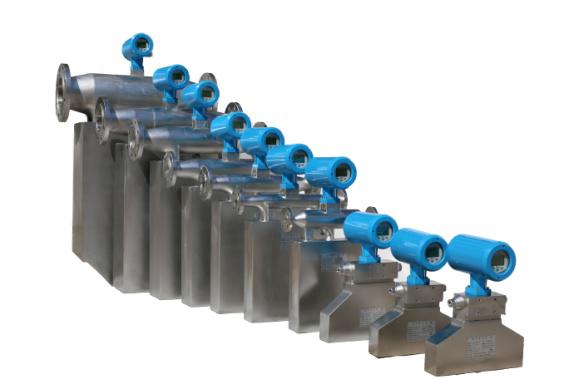 a.Medium can be measured: Palm oil; Starch emulsion; Syrup; Fruit juice; Peanut oil; Edible oil; Food flavor; Wine.
b.All stainless steel material for food and sanitary purpose.
c.Sanitary flow meter process connection: Flange, thread or tri-clamp connection options.
d.Viscous Medium , such as syrup can be measured by Coriolis Mass Flow Meter.
e.Medium temperature can reach to 350 ℃,which can be used in harsh medium.
Variable Area Flow Meter
(Metal Tube Rotar Meter) /sanitary rotameter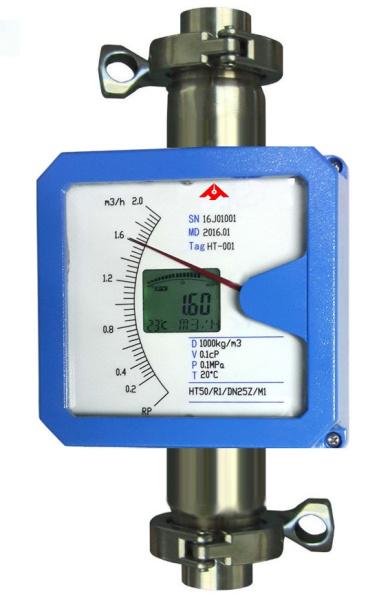 a.Wet parts material options with stainless steel 304, 316, 316L and PTFE , can be used in different medium measurement in food or hygiene application.
b.Sanitary rotameter can have Tri-clamp, ferrule, SMS connection for food industry.
c.Variable Area Flow Meters (Metal Tube Rotar Meters) are Best choice for small flow range applications
d.Local display for instant flow in the field, option with 4-20mA output , HART.,etc which can meet varies process control demands in food industry.
e.Sanitary rotameter can be used in milk, wine-making, beverage industry.,etc.
Pressure Gauge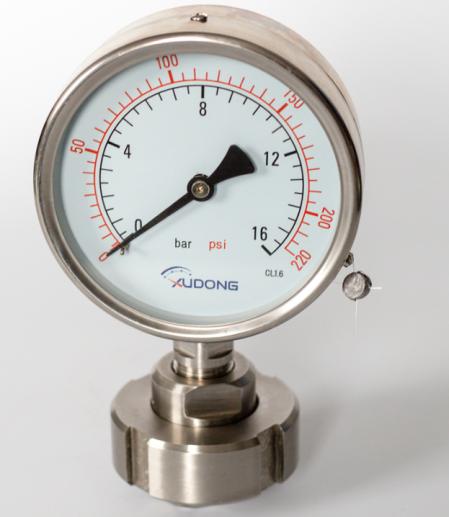 Hygienic diaphragm pressure gauge is a general-purpose pressure gauge and diaphragm isolator to form a systematic diaphragm pressure gauge. With the demolition of the demolition of the site quick and easy, not easy to clean, easy to clean, safe and reliable security and so on
a.All stainless steel material options can totally meet food industry demands, option with PTFE material diaphragm seal pressure gauge
b.Process connection : Tri-clamp or thread connections
c.pressure gauges for Homogenizer
d.Pressure gauge with electrical contact for various process control demand.
Pressure Transmitters
, DP transmitters and diaphragm seal transmitters
a.All stainless steel material option
b.Different kind of diaphragm seals, tri-clamp connection option
c.4-20mA output , digital display and Hart Protocol option
RTD & Thermocouple, temperature transmitter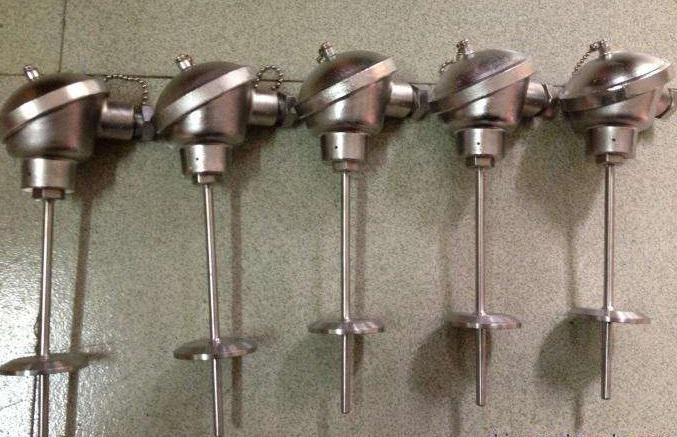 a.All stainless steel material.
b.Tri-clamp connection, thread ,flange process connection options
c.Option with 4-20mA output and Hart Protocol.
d.Custom tailored temperature sensing solutions to meet the unique requirements of the food service equipment OEM. We provide our sensor assemblies promptly and cost effectively to our valued customers.
Radar Level meter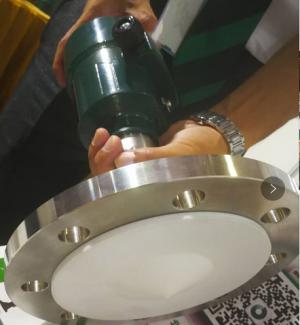 Application: Sanitary liquids, strong erosive liquids
Max. range: 20m
Process connection: flanges
Process temperature: -40~150°C
Process pressure: -0.1~0.5 Mpa
Accuracy: ±3mm
Frequency range: 26GHz
Explosive rating: Exib IIC T6 Gb
Protection level: IP67
Output signal: 4~20mA/HART(2 wire/4 wire) RS485/Modbus
Material: Stainless steel and PTFE lined.
Ultrasonic Level meter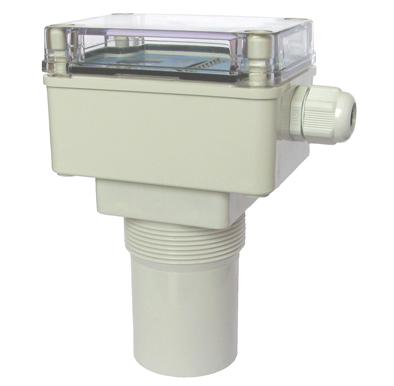 Ultrasonic level meter is for continuous non-contact level measurement in liquids and solids. It consists of probe and host, both of which are plastic leak-proof structure.
a.Max level range 40m
b.Wet parts material option with plastic and PTFE
c.Digital display, 4-20mA output, RS485,HART protocol option
d.Option with SPDT outputs
Paperless Recorder
With up to 48 recording universal channels, an intuitive Windows-style interface and unsurpassed environmental protection, an excellent solution for a wide range of applications including water treatment plants, cold storage, stack gas monitoring, environmental monitoring, food processing and more.