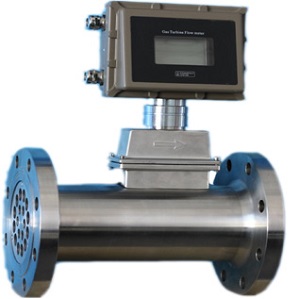 Overview
Natural gas is a kind of high-quality energy and chemical raw material; we need precise metering for natural gas. The main component of natural gas is methane; Gas turbine flowmeter is a very good natural gas metering instruments. Gas turbine flow meters are suitable for non-corrosive gas measurements such as natural gas, propane, fuel gas and feed gas. The turbine meter measures volumetric flow based on gas turbine flowing passed a free-spinning rotor, with each revolution agreeing with a specific volume of gas or air.
Why we need temperature and pressure correction for natural gas flow meter ?
When the gas turbine flowmeter is measured in the pipeline, the density of natural gas varies with temperature and pressure. For accurate measurement, it is necessary to simultaneously track the temperature and pressure of natural gas, and convert the volume flow under different working conditions into a standard state or an agreed state volume flow. The
gas turbine flowmeter
can integrate temperature, pressure and flow sensors, and track and detect natural gas temperature and pressure and perform automatic compensation and compression factor correction calculation. Therefore, it has excellent low-pressure and high-pressure metering performance.
Features
✔
High precision, good repeatability, low pressure loss, good seismic performance
✔
In-line volume flow meter
✔
High quality bearings, low frictional resistance and good sealing
✔
The gas turbine flow instrument has pulse signal and analog signal output, which can have MODBUS communication interface,can be
modbus natural gas turbine flow meter
.
✔
Low power consumption can be powered by internal battery, or external power supply;
✔
With real-time data storage function, it can prevent data loss when battery is replaced or suddenly power-off
✔
Gas turbine flow meter with explosion-proof
✔
Low price cost gas flow meter
Technical Parameters
✔
Medium: clean, no impurities, medium and low flow rate natural gas
✔
Flow sensor range: 20mm (3/4 inch) ~ 400mm (16 inch)
✔
Temperature pressure correction/compensation function can be selected
✔
Process connection: threaded or flanged
✔
Accuracy: ±1.5%R, ±1.0%R
✔
Range ratio: 1:10~1:30
✔
Working power supply: built-in lithium battery 3.6VDC, external 24VDC
✔
Natural gas temperature: -20~60 °C,
✔
Gas turbine material: Housing: 304 stainless steel, impeller: anti-corrosion ABS or aluminum alloy
Natural Gas Turbine Flow meter Flow range
Size

(mm)

Standard

(m3/h)

Extended

(m3/h)

Standard

Pressure

Special Pressure

DN20

S

2-20

W

4-40

1.6Mpa

Thread≤4.0Mpa,Flange≤6.3Mpa

DN25

S

2.5-25

W

4-40

Thread≤4.0Mpa,Flange≤6.3Mpa

DN32

S

4-40

W

6-60

Thread≤4.0Mpa,Flange≤6.3Mpa

DN40

S

5-50

W

6-60

Thread≤4.0Mpa,Flange≤6.3Mpa

DN50

S1

6-65

W1

5-70

Thread≤4.0Mpa,Flange≤6.3Mpa

S2

10-100

W2

8-100

DN65

S

15-200

W

10-200

Flange≤6.3Mpa

DN80

S1

13-250

W

10-160

Flange≤6.3Mpa

S2

20-400

DN100

S1

20-400

W

13-250

Flange≤6.3Mpa

S2

32-650

DN125

S

25-700

W

20-800

Flange≤6.3Mpa

DN150

S1

32-650

W

80-1600

Flange≤6.3Mpa

S2

50-1000

DN200

S1

80-1600

W

50-1000

Flange≤4.0Mpa

S2

130-2500

DN250

S1

130-2500

W

80-1600

Flange≤2.5Mpa

S2

200-4000

DN300

S

200-4000

W1

130-2500

Flange≤2.5Mpa

W2

320-6500

DN350

S

400-8000

W1

150-4500

--------

W2

300-9000

DN400

S

500-10000

W1

300-9000

--------
Natural Gas Turbine Flow meter Types
Model

SGW-N

SGW-A

SGW-B

SGW-C

SGW-D

Picture




Display

No Digital Display

No temperature and pressure compensation

Digital Display

Instant & Totalized Flow

No temperature and pressure compensation

Digital Display

Instant & Totalized Flow

Temperature and pressure compensation

Diameter

DN20-DN400

Output

Pulse

4-20mA

No

4-20mA/Pulse

4-20mA/Pulse

Power

24VDC±15%

Battery*1

24VDC±15%

24VDC±15% & Battery

Flow Range

Standard

Standard or Extended Flow range

RS485

No

RS485 Option

Power consumption < 0.5W

Protection level: IP65
*1 Battery for natural gas turbine flow meter can be used for around 56 months