Turbine flow meter for low flow water measurement
With the continuous progress of society and science and technology, more and more attention has been paid to flow measurement in various industrial systems, and related technologies have also made great progress. Such as we need water flow measurement with higher accuracy, we demand more accurate measurement on low flow measurement, various communications for different process control or online observation. Liquid turbine flow meter is an ideal flow meter for water volumetric flow measurement, also can be used to measure water low flow rate also can be low pressure flow meter.
Turbine flow meter can measure clean water at ultra low flow rate starting from 0.04 m3/h; Applications include RO water, DI water, tap water, distilled water, boiler water flow measurement, bottled water, drinking water.,etc
Turbine flow meter construction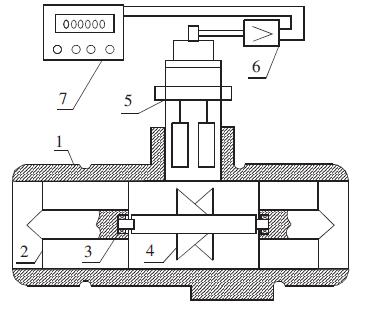 1.
Housing 2.Front deflectors 3.Bearings 4.turbines rotors 5. Transmitters
6. Preamplifiers 7.Secondary instruments
Turbine flowmeter is a kind of velocity flowmeter, which uses the turbine to sense the average flow rate of the water to derive the water flow. Its working principle is that the water passes through the inner cavity of the flowmeter and impacts the blades to make the turbine rotate. The rotation speed of the turbine changes with the flow rate. , the flow rate of the water is obtained through the rotational speed of the turbine. Because the turbine flowmeter has the characteristics of simple structure, small volume, small mass and high accuracy, it is the most widely used in industrial practice.
Features of low flow turbine flow meter:
Low pressure loss when measuring water flow;
Low cost water flow meter with price starts from $100;
Stainless steel water flow meter;
It has high anti-electromagnetic interference and anti-vibration ability, reliable performance and long working life.
Using advanced ultra-low power consumption single-chip microcomputer technology, the flow sensor has strong functions, low power consumption and superior performance.
Option with flow display to show water flow rate and total flow;
Instrument coefficient can be set online by the button, and can be displayed on the LCD screen, which is intuitive and clear, and has high reliability, low flow indicator water meter.
EEPROM is used to protect the accumulated flow and meter coefficient from power failure. The protection period is greater than 10 years.
Main technical parameters of low flow water turbine meter:
Low flow water meter for ultra flow:
DN4 water meter minimum flow rate : 40-250 LPH ; 6mm ultra low flow meter: 1.67-10 LPM;
10mm,1/2inch micro flow meter: : 0.88-5.28 GPM; DN15 , 5/8 water meter flow rate: 0.6-6 m3/h;
3/4 inch flow meter: 0.8 -8 m3/h; 1" flow meter: 1-10 m3/h;
Accuracy: 0.5, 1.0;
Water flow meter digital Power supply: 24V DC,220V AC, 3V lithium battery batter operated water flow meter;
Output: pulse, 4-20mA two-wire current output, frequency;
MODBUS RTU, RS485 or Hart Protocol;
Conditions of Use:
1. Ambient temperature when using turbine flow meter: -20°C~50°C ;
3. The temperature of the measured water range: -20°C~120°C ;
4. Atmospheric pressure: 86Kpa~106Kpa;
5. Option with Explosion-proof: ibⅡBT4.
Install turbine flow meter
It is strictly forbidden to weld the pipeline flange of the flowmeter online. The turbine flow meter should be removed before welding.
Before installing the flowmeter, the debris, welding slag and dust in the pipeline should be cleaned up.
In order to facilitate maintenance and not affect the normal delivery of fluid, it is recommended to set the bypass pipeline.
The flow meter has a special rectifier with superior performance, so the requirements for straight pipe sections are low. Only the front straight pipe section>2DN, the rear straight pipe section>IDN.
To prevent impurities from entering the flowmeter, a filter must be installed.
The flow sensor can be installed horizontally or vertically.
When the micro flow meter is installed outdoors, it is recommended to add a protective cover to avoid rainwater immersion or scorching sun exposure, which will affect the service life of the flow sensor;
There should be no strong external magnetic field interference and strong mechanical vibration around the low cost water flow meter.
The flowmeter needs to be grounded reliably, but it must not be shared with the ground wire of the strong power system.