Air turbine flow meter overview
Turbine air flowmeter is almost independent of air density, pressure, temperature and other parameters when measuring the volumetric air flow. This kind of Air flow transmitter has high reliability and needs low maintenance. Air turbine flow meter is easy to be used with digital systems such as computers, PLC ,etc.
Turbine air flowmeter is a kind of speed type flowmeter. It uses a multi-blade rotor (turbine) to sense the average flow velocity of the air, and derives the flow rate or total amount of the meter.
Air turbine flow meter types
SGW-C series turbine air flow meter has electronic indicator to show air flow rate and total flow at operation condition; it is output 4-20mA current or pulse output, also possible with HART or Modbus.
SGW-D series turbine air flow digital display is designed to compute and display flow rate and total at standard condition, it is both with battery and 24V DC power supply.
SGW-D series air turbine flow meter can also show air pressure, temperature, total flow and air flow rate at operation condition and standard condition. SGW-D series air turbine flow digital display is as below picture shows.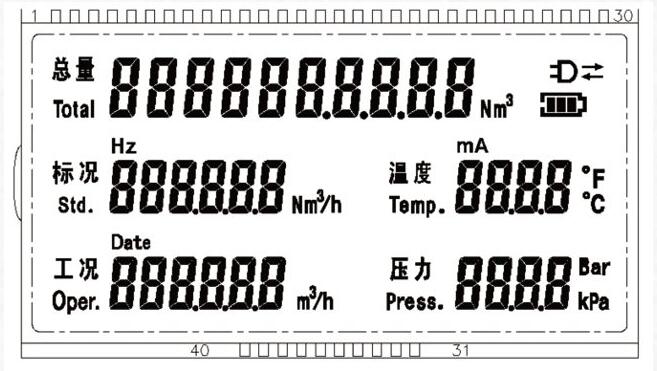 Main features of air turbine flowmeter
Air flow sensor

with high accuracy: 1.5% or 1.0% ,also with excellent repeatability
Large turn down ratio: 10:1
High quality bearing and rotor inside the gas flow meter tube
Air turbine flow transmitter with pulse output or current output for process control
Air turbine flow meter has low power consumption
Stainless steel air flow sensor
Small and light air flow meter for easy for maintenance
Technical Specification of turbine air flow meter
Medium

Clean gas or air with low to medium velocity

Standard

Gas measurement in closed pipe-Turbine flow sensor(GB/T18940-2003)

Size & connection

Flange type

Stainless steel housing

DN25-DN300

Aluminum housing

DN25,50,80,100

Carbon steel

DN350,400

Thread type

Stainless steel(non compensation)

DN25,40,50

Stainless steel(compensation)

DN25, 40,

Flange

Standard

GB/T9113.1-2000

Others

DIN,ANSI,JIS

Thread

Standard

BSPP(male)

Others

BSPP(Female),NPT.,etc.

Accuracy & Repeatability

Accuracy

±1.5%R

±1.0%R(Option)

Repeatability

≤0.5%

≤0.15%

Turn down ratio

30:1-10:1

Calibration

Facility

1.       Master Meter calibration facility

2.       Sonic nozzle gas flow calibration facility

3.       Bell prover gas calibration facility

Environment

Temperature: 20℃

Relative Humidity: 75%

Working Condition

Medium temperature: -20 ~80℃

Atmospheric pressure: 86Kpa-106Kpa

Environment temperature:-20 ~60℃

Relative Humidity5%-90%

Typical Error Curve

























































Air turbine Flow meter Flow Range & Pressure Rating                                               
Size

(mm)

Standard

(m3/h)

Extended

(m3/h)

Standard

Pressure

Special Pressure

DN20

S

2-20

W

4-40

1.6Mpa

Thread≤4.0Mpa,Flange≤6.3Mpa

DN25

S

2.5-25

W

4-40

Thread≤4.0Mpa,Flange≤6.3Mpa

DN32

S

4-40

W

6-60

Thread≤4.0Mpa,Flange≤6.3Mpa

DN40

S

5-50

W

6-60

Thread≤4.0Mpa,Flange≤6.3Mpa

DN50

S1

6-65

W1

5-70

Thread≤4.0Mpa,Flange≤6.3Mpa

S2

10-100

W2

8-100

DN65

S

15-200

W

10-200

Flange≤6.3Mpa

DN80

S1

13-250

W

10-160

Flange≤6.3Mpa

S2

20-400

DN100

S1

20-400

W

13-250

Flange≤6.3Mpa

S2

32-650

DN125

S

25-700

W

20-800

Flange≤6.3Mpa

DN150

S1

32-650

W

80-1600

Flange≤6.3Mpa

S2

50-1000

DN200

S1

80-1600

W

50-1000

Flange≤4.0Mpa

S2

130-2500

DN250

S1

130-2500

W

80-1600

Flange≤2.5Mpa

S2

200-4000

DN300

S

200-4000

W1

130-2500

Flange≤2.5Mpa

W2

320-6500

DN350

S

400-8000

W1

150-4500

--------

W2

300-9000

DN400

S

500-10000

W1

300-9000

--------

W2

500-10000