Metallic tube rotameter can be used to measure liquid, gas and steam. It can be used as local flow indicator without any external power supply. And Silver Automation Instruments Limited can provide rotameter with pulse output , 4-20mA output and relay outputs for different kinds of process control. The best part of variable area flow meter is that it can measure low flow medium which other types flow meters can handle. Below we list two applications of Metallic tube VA flow meters for glycol and water flow measurement.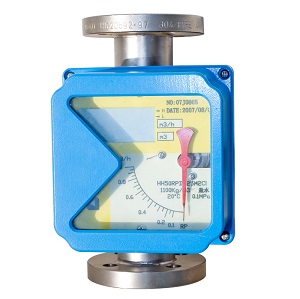 GLYGOL FLOW MEASUREMENT
FLOW METER TYPE :VARIABLE AREA FLOW METER/ ROTAMETER
TAG NO: FT-5202
FLOW MEASURING RANGE: 0.53- 5.3 m3/h
BODY SIZE: 1"
ACCURACY: -+ 1.6 %
OVERALL LENGTH : 250 mm
PROCESS CONNECTION: ANSI B 16.5 1" RF
PRESS. : CLASS 300
BODY MATERAL: 304SS
WETTED PARTS MATERIAL: 316SS
FLOAT MATERIAL: 316SS
PROCESS FLUID: TRIETHYLENE GLYCOL
OPERATING PRESS. : 4.21 Mpa
OPER. TEMP. : 600 C
STD DENSITY: 1097.3 KG/ M3
DYNAMIC VISCOSITY : 9.8549 CP
EXPLOSION- PROOF CLASS: ExiallBT4
ENCLOSURE PROOF: IP65
ELECTRIC CONNECTION SIZE & NO.: 1/2" NPT(F)/2
OUTPUT SIGNAL: 4-20mA TWO WIRE SYSTEM
POWER SUPPLY: 24 VDC
NOTE:
THE OFFERS SHOULD CONTAINS COMPLETE DATA SHEET, SPESCIFICATION &
DRAWING FROM THE MANUFACTURER
Answer to the Glygol Flow Measurement Application
After checking the specifications, we choose below type variable area flow meters :
HH50-25-L-M2-D-K1-X-R1-X
HH50-Silver Automation Instruments variable area flow meter ,flow direction from bottom to top.
25-Flow meter size 25mm
L-Measured medium: liquid
M2- Power supply type square shell body, mechanical pointer displays instant flow rate, LCD display of instant/accumulated flow rate
D- 24VDC two wire power supply, 4-20mA signal output, no back light
K1-No alarm or pulse output
X- non-explosion-proof
R1-Wet parts material : 304 stainless steel
X-None accessory
Water flow measurement
Below is the rotameter inquiry detail:
I appreciate that you can help to quote the equipment of your company to replace it. Look I need your help to get a quotation to homologate the following equipment
Rotameter
FLOW INDICATOR, TYPE METAL TUBE ROTAMETER, with:
 Metallic tube
 Rotameter Wet part material, SS316L
 Pressure PN40 (Rev.1)
Flow sensor accuracy Class 1.6% (V2524) (Rev.1)
- Connection: 1 "ASME 150 lb (C) (Rev.1)
- Pressure: ASME 150 lb., 250mm length (B)
- Flange Seal Surface: Shape RF (A)
- Cone Measurement: K25.1 (1) (Rev.1)
- Float: T IV (3) (Rev.1)
- Indication: M40 (E)
- Contacts: Sin (0)
- Outputs: 4-20mA output + totalizer volumen display for local indication.
- Approvals: Without (0)
- Indication Options: Sin (0)
- Identification: Without (0)
- General Confirmation: Optional (0)
- Accuracy Confirmation: Optional (0)
- Pressure and Leak Test: Optional (0)
- Material Testing / Certification: Optional (0)
- Test Penetrating Inks: Optional (0)
- Radiographic Examination: Optional (0)
- Hardness Test: Optional (0)
- Special Cleaning: Optional (0)
- Direction of Flow: Vertical from bottom to top (0)
- Manual: English (3)
-Medium to be measured: water
Answer to the water flow measurement Inquiry
After seeing the parameters, we choose below type flow meter for your applications which can totally meet your specific water flow application:
HH5
Variable Area Flow meter
HH50-25-G-M2-B-K1-X-RL-X
HH50- variable area flow meter ,flow direction from bottom to top.
25-Flow meter size 1 inch
L-Measured medium: liquid
M2- Power supply type square shell body, mechanical pointer displays instant flow rate, LCD display of instant/accumulated flow rate
D- 24VDC two wire power supply, 4-20mA signal output, no back light
K1-No alarm or pulse output
X- non-explosion-proof
RL-Wet parts material: 316L stainless steel
X-None accessory
If you want to know the price for the rotameter, you can send email to us sales@silverinstruments.com