Paperless electronic chart recorder come equipped with rich recording formats and display functions which is widely used in industry. How to get a low cost paperless recorder? Lets us see below main factors to determine the paperless recorder cost.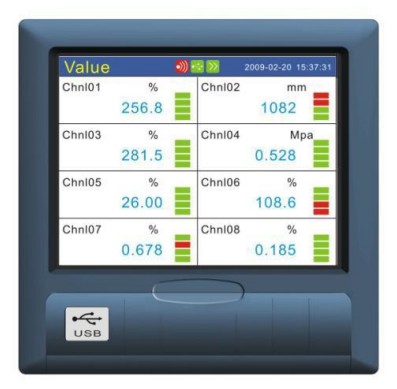 Brand and Recorder Manufacture Origin
Generally speaking, Top brand chartless recorder is more expensive, such as Fuji, Honeywell,Siemens,Yokogawa ,Jumo and so on.
While if you want to buy low cost paperless recorders, you can buy chartless recorders from China. Low cost now equals to low quality. Many customers buy again,again recorders from China , they found most of them are with stable performance and excellent quality.

Channels input
As we all know the main determination for the paperless data recorder price is the quantity of channel inputs, the price between one channel and 40 channels is quite different.
Customers should purchase the channels according to their demand, the more channels, the more cost.

Color screen or monochrome Screen
Silver Automation Instruments supply color screen and blue screen paperless data loggers, if you want lower cost paperless graphic recorders, you can choose blue screen industrial recorders.

Screen Size
We sell 3.5 inch, 5.6 inch, 10.4 inch screen paperless recorders, it is obviously if you want a cheaper price paperless chart recorders, you can consider smaller size recorder, such as 3.5" screen SX2000 series electronic chart recorder paperles which max can have 4 channels inputs.
Functions
The more function you need, the more price you need to bear, if you want industrial recorders with E-thernet function, CF card, alarm outputs or 4-20mA outputs, you should cost more price.

Welcome to send your inquiry to us. SX series paperless electronic chart recorder which is sold by Silver Automation Instruments provides a reliable, low price and perfect solutions for chartless data recording and analysis.