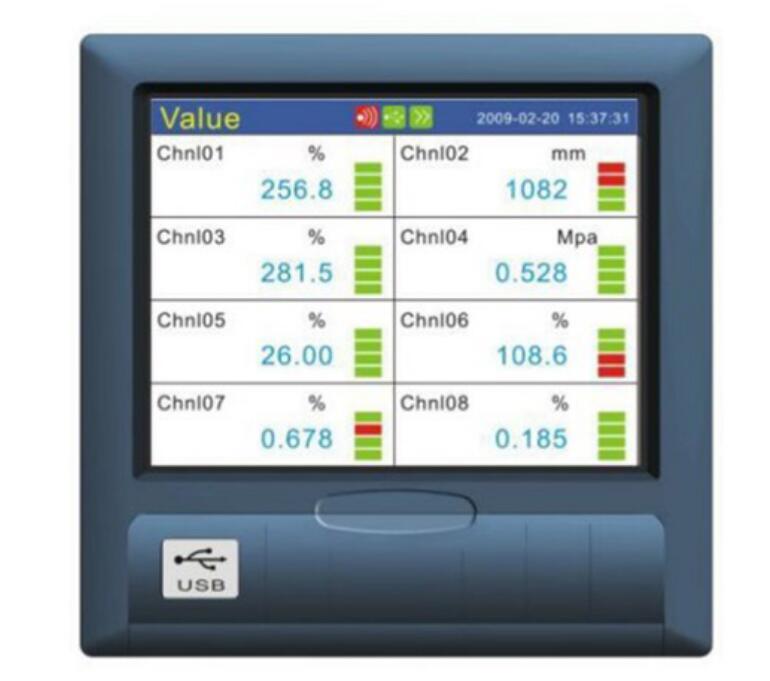 No. of Channels: 18 Channels 
Input Type: Universal (DC Volts, dc millivolts, dc milliamps, Thermocouple, 2/3/ Wire RTD)  
Sampling Rate: 125 m Sec 
Trend Update: 125 mS 
Supply Voltage: 85 - 265 VAC, 47-63 Hz.
Data Logging Media: Compact Flash Drive or USB
USB Port: One 
Ethernet Port: RJ-45 paperless recorder
Soft Alarms: 4 nos provided for each Channel, Different Jobs can be assigned to per channel, 04 nos. per alarm
No. of Groups: 6 groups provided 
Changeover Relay: 3 nos provided.
Display: 10.4" VGA Color TFT with Touch Panel 
User Interface: Touch Sensitive Panel
Memory: 96 MB Internal Flash for 6100A
Recording Destinations: Internal Flash, removable media.
Remote Viewers: Each recorder can have 10 concurrent, independent, 
Remote users connected to it and viewing live data from it.
Graphics: Trend, Bar, Digital Numeric Display & Circular Chart
Security: Configuration Password protected & tamperproof 
Temperature Limits: 0 to 50 Deg C
Humidity Limits: 5 - 80% RH
Mounting Type: Panel
Protection: Bezel and Display: IP 65, Sleeve: IP20
Free data management software provided
Physical: Bezel Size: 280x280 mm
Click below for more technical specifications about 18 channels paperless recorder