As a China paperless recorder supplier, we supply good price chartless recorder with different kinds functions, such as with printer, with RS485, with RJC compensation ,with alarm outputs .,etc. below is the case how we choose a 12 channels paperless recorders with RJC and printer information.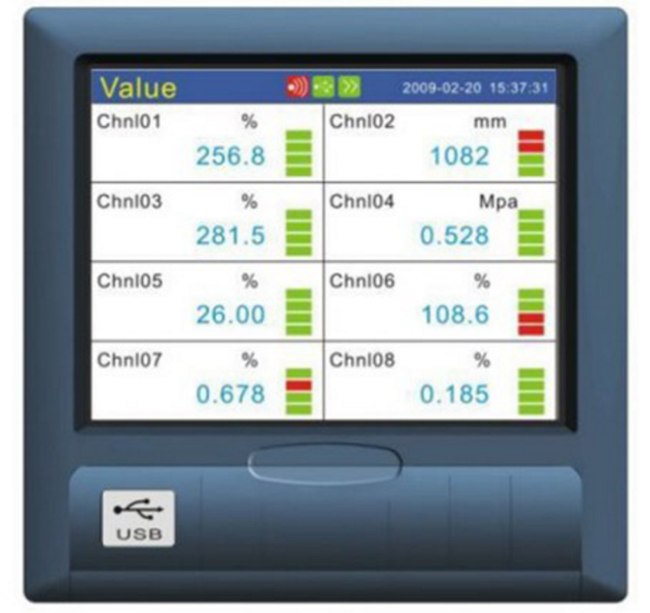 12 Channels Paperless Chart Recorder for Temperature Recording
Kindly find below file for technical specifications of Paperless Chart Recorder and Quote with complete model numbers. We need two chart recorders for boiler and turbine room. We need color paperless recorders.
Paperless Recorder (Analog/Digital) 0-180 MM
Power Supply 240, 50Hz
12 Channels,
Data saving recording system
Input with all types of thermocouples with (RJC)
Resistance Thermometer PT-100, CU-S3
Wide range of DC voltages, Current Including 4 to 20mA
Skip Burn out & Square root extractions functions
Internal memory, Medium Flash memory, Capacity selectable 80MB or 120MB
External Storage Medium, Compact Flash memory card, Floppy 3.5 inch, ZIP disk (Disk Drive), USB
Recording Display Option, CF Card Memory Option
Panel Mount Type
Chartless recorder withAlarm unit for 12 channel configurable
Analog/Digital daily periodic & List print display option
Communication RS232, RS485
Manual and Circuit diagram.
Required for boiler and turbine control room
Chart recorder can be connected with PC with RS232 or RS485. It is possible to send parameters values serially to chart recorder for printing or it is essential to connect all signals physically for printing?
It means instead of connecting thermocouple physically at channel No1. Can I send the value of thermocouples (mV) to chart recorder serially via PC for printing its value. If it is not possible then for what purpose serial interface can be utilized?I turn to you for most suitable quote of chartless recorder with complete model number I am thankful for all your help and assistance.
Solution to 12 Channels Paperless Recorders
First let me answer you that we cannot print the thermocouple value as your demand,
We will provide free software "Data Management software" for you to install in the PC, then you can connect the recorders with PC through serial interface, then you can read the value on PC and also you can print the value from PC.
Another solution to print is that you can purchase our dedicated micro printer to connect with our paperless chart recorder, we have a dedicated port to connect micro printer with paperless recorders, below is the paperless recorder printer for your reference:
Suitable model for your application:
SX6012-R/C4/U
SX6012-12 channels paperless recorder
R-Recorder Function
C4-Paperless recorder printer (micro printer) interface
U-Paperless recorder USB interface
Below is the operation procedures information for paperless recorder reference junction compensation
Press [Page] and [En] keys together ,and then into the menu.
Use → keys and [En] keys to enter the chartless recorder passwords, and then you can go to the "System" display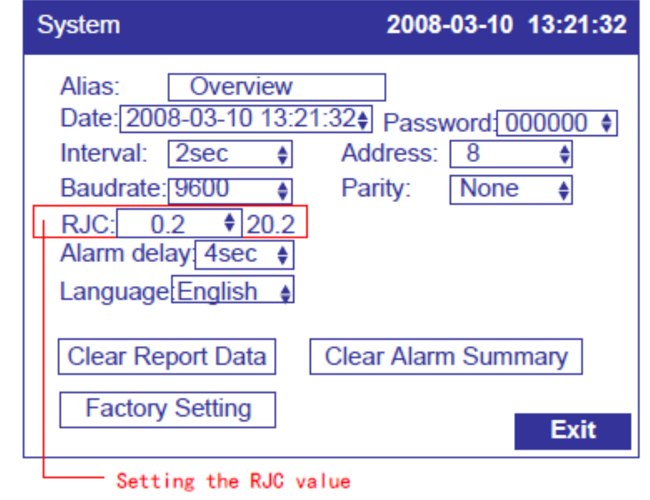 CJ Compensation in Paperless Chart Recorder
If the differences values exits between the scene thermocouple and the cold thermocouple temperature instrument which is been measured, customers can configure and debug the CJ compensation.
Compensation value= CJ measuring value + CJ debugging value
Confirm
After the parameters has been debugging, choose "Exit" button.
Choose "Yes" button to save debugging information, then you can and exit "System "display.
Users Choose "No" to cancel the confirmation, then users can and exit "System "display.
Users Choose "Cancel" to go on setting the values.