MAGNETIC FLOW METER TO MEASURE WATER WITH 4-20mA OUTPUT
A
magnetic flow meter
is a device used to measure flow, whose operation is based on Faraday's law, which has very low maintenance.
Electromagnetic flow meters consist of a flow transmitter and a mag flow sensor that together measure the flow. The mag flow sensor is placed in line and measures the induced voltage generated by the liquid as it flows through the pipe.
The mag flow transmitter then receives the voltage sent by the sensor and converts it into a flow measurement. This measurement is transmitted to a control system by using 4-20mA output.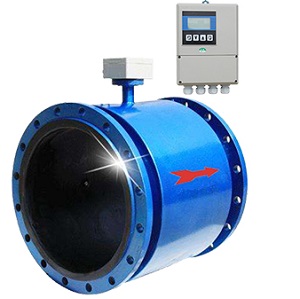 Features of Digital magnetic flow meter
• Digital magnetic water flow meter not only with 4-20mA output, also with electronic display to show water total flow and flow rate
• The outstanding feature of this digital water flow meter is accuracy. By calibrating the meter's primary and secondary components as a unit, the efficiency of the system will be as good as 0.5%.
• The electromagnetic flow sensor should be used in liquid-filled pipes to ensure measurement accuracy because the meter generates a voltage that is proportional to the average fluid speed.
• Changes in density and viscosity do not affect accuracy since the mag sensor is not sensitive to them.
• By using different liner and electrodes material, it can measure different water, such as clean water, tap water, waste water, treated water, corrosive water or dirty water with solids.
• This flow meter measures the flow of electrically conductive fluids; however, the conductivity threshold for many commercially available meters is very low.
• It is a bidirectional flow meter.
• Silver Automation Instruments not only supply water flow meter with 4-20Ma, it also with pulse output, the two outputs can be used at the same time.
• Electronic water flow meter also option with MODBU, HART or Profibuds-DP options.
• Because it offers no clogging, this meter is used in "mud" type flows, corrosive acids, paper pulp, detergents, etc.
TURBINE FLOW METER FOR WATER MEASUREMENT WITH 4-20MA OUTPUT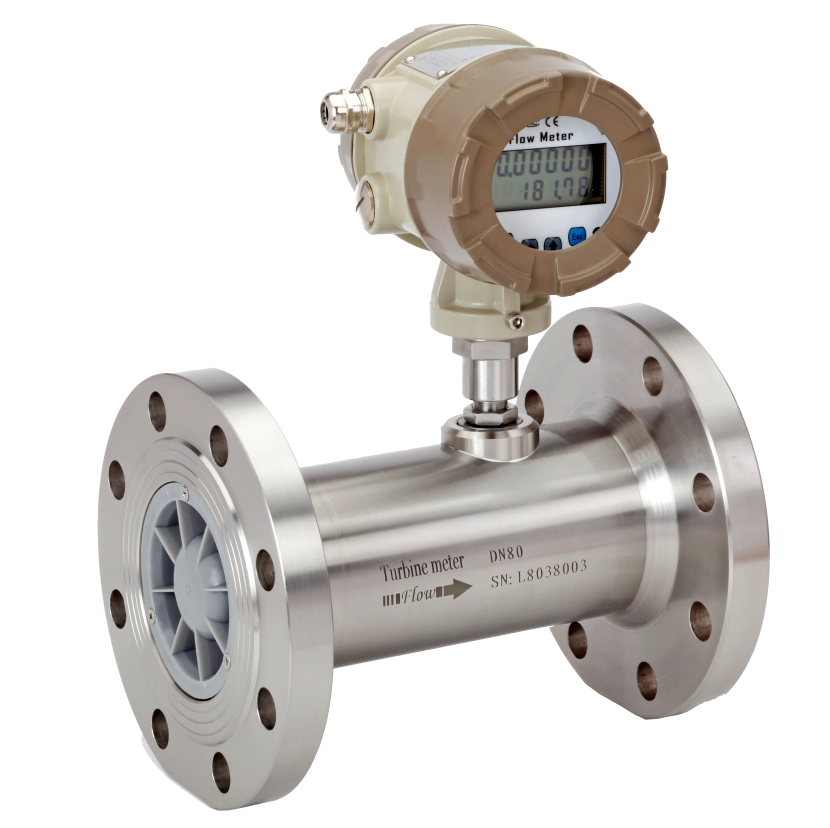 Turbine flowmeters
are very useful in the industry because they are suitable for several situations, are easy to maintain, durable, and versatile.
Indicated to measure the flow of clean and low viscosity liquids, they also allow measurement with aggressive and non-conductive fluids.
This turbine flow sensor consists of a rotor with blades, similar to a turbine, is installed in the center of the pipe, and rotates with an angular speed directly proportional to the flow.
It can be used to measure clean water, tap water, condensate water or hot water.
Turbine Water Flow meter with 4-20mA output Features
• The turbine flow sensor is limited by viscosity of fluid, due to change in velocity profile of fluid through the pipe when viscosity increases, but it has no problem to measure clean water.
• Accuracy is high, turbine flow meter can reach 0.5% accuracy but at low price cost. The optimum value is achieved when the flow direction follows the direction of the pipe.
• Digital turbine water flow meter can have current output ( 4-20mA)
• Option with electronic display to show water flow rate and total flow
• The flow instrument must be installed in such a way that it does not empty when the flow ceases since the high-speed liquid shock against the empty meter can seriously damage it.
ROTAMETER WITH 4-20MA OUTPUT FOR WATER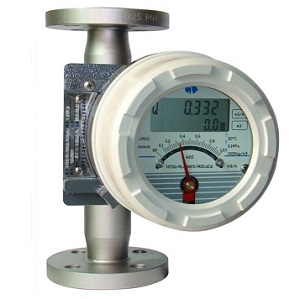 Rotameter, also known as
variable area flowmeter
, it can be a digital water flow meter that works with a constant pressure drop.
Its operation is based on the measurement of the vertical displacement of a sensitive element, whose equilibrium position depends on the circulating flow rate that simultaneously leads to a change in the area of the fluid passage orifice.
This instrument works with a cylindrical float that plays with fluid densities to determine this property.
ROTAMETER WITH 4-20MA also with digital display to show water total flow and flow rate.
DIGITAL VORTEX FLOW METER WITH 4-20MA FOR WATER MEASUREMENT
Digital vortex flowmeters are a type of flow sensor that measures the frequency of the vertices through a lantern device located in the flow stream.
In the area of the lantern device, the vertex frequency is a proportion of the flow rate. This type of meter is used to measure the flow of liquids and gases. Digital vortex flow meter with 4-20mA output can be used to measure clean water, hot water, condensate .,etc.
Digital vortex water flow meter with 4-20mA Features
• Vortex flow transmitter has a digital screen that can show information about water instantaneous flow, total flow.
• It is a stainless steel flow meter.
• Vortex shedding flow sensor can handle a maximum temperature range of 350C.
• Vortex flow sensors have several process connections, such as the tri-clamp for the sanitary and hygienic industry, flanges, and wafers.
• It is also a 2-wire electronic water flow meter with analogy output
• Vortex flow meter can not only with 4-20mA output, but option with pulse or frequency output
The
vortex flowmeter
is very convenient as it maintains its accuracy over time. As it has no moving parts, it doesn't require much maintenance.
Its temperature range is also impressive; therefore, it is a reliable digital water flow meter.