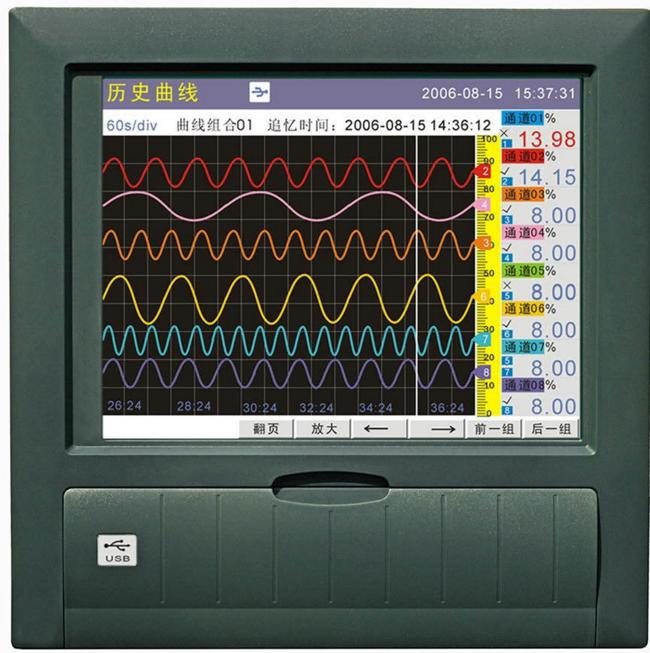 Silver Automation Instruments provide
cheap paperless recorder
with SD port or USB port, and in recently years, chartless recorder with SD card is more and more popular to our customers. This article is mainly talking about a customer who need 32 channels recorder with SD card, also need detailed information about SD card, let's see the case.
Paperless recorder 32 Channels Inquiry:
Paperless Recorder Specifications.
Analog Inputs: 32 analog inputs ( input signals including PT100 RTD temperature sensor, K Type Thermocouple & Cu50 & Cu100)
Relay output from the chartless recorder:  we need 32 channels relay outputs for industrial control purpose.
Digital Input: None
Digital Output: None
Power Supply: 90-250 VAC, 50/60 Hz
Paperless Recorder Communication: Standard Ethernet, With Standard Ethernet data cable.
Firmware: Standard version
PC Software: Basic Communication Software
Mounting Type: Panel Mount Paperless recorder
We also need mathematic functions, does your recorders have ?
We require the data logger With 16 GB SD Card, does Silver Automation Instruments logger has SD port for this function? can you introduce more about this ? Because our previous ordering do not include the SD port, and I want to know more about that. We need SD card because we want to large storage for the industrial recorder.
Wish you can help us to choose right type paperless recorders.
Solution to 32 Channels Paperless Recorder
Hi,thanks for your years support for Silver Automation Instruments, and for your complicated requirement, we recommend our ST800 series paperless recorders, it can have max 48 channels , also available with math functions ( you should specify when ordering this function,it is customzed function). See below correct model selection.
ST-800 series Paperless Recorder
ST832-A32/C3/U/S/L/E ( with mathematic function +-×÷)
ST832-recorders with Signal input 32 channels
A32-Paperless recorder with Relay outputs 32 channels.
C3-RS485 communication
U- USB Interface
S- SD card Interface
L- Accumulation/report
E-Industrial recorder with Ethernet communication
Kindly note:our chartless recorder standard with 90-250 VAC power supply , however 24V DC power supply is also an option for users if they need .
As for SD card operation, see below:

How to Insert the SD card through paperless recorder SD port?
1.Open the chartless recorder panel cover in the bottom of the recorder screen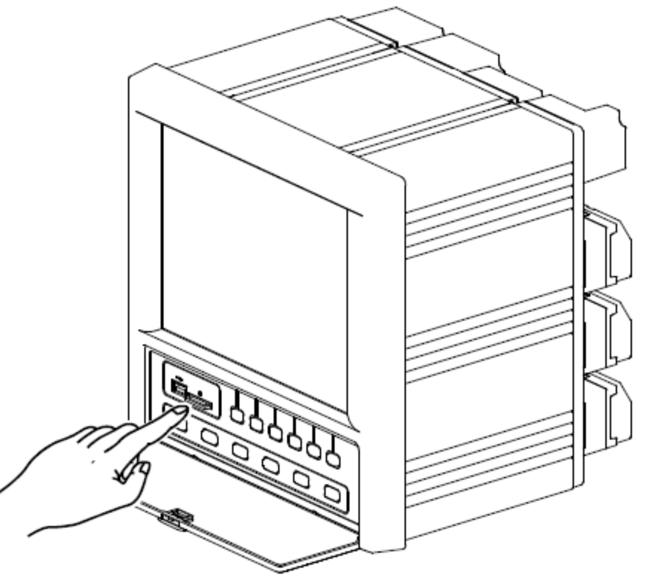 2.Insert the SD card into the slot in the left side of the operation keys. After the data logger can check that SD card is inside, the status bar of chartless recorder operational screen will display the icon which indicate SD card inside and can work. See below pictures shows how will the recorders display shows:

3.When can detect the SD card, users can close the cover.
How to Remove SD Card From Chartless Recorder ?
Below is the procedures how your remove the SD card.
1. First you should open the recorder bottom cover
2. Second you should touch the end of the card, the SD card can pop up automatically ,shown as below operation pictures: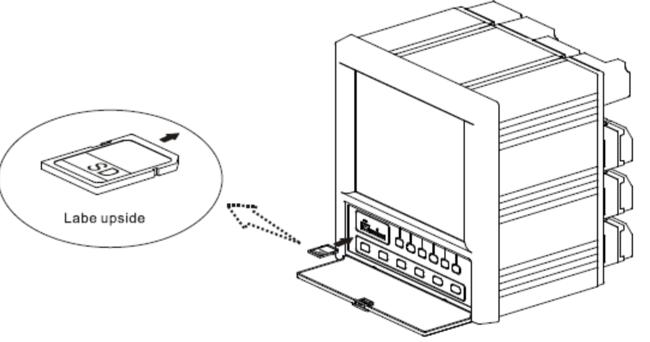 3. At last you can take off the SD card, and close the logger cover to finish the operation.