Introduction:
Some Electricity and Water Authority owns and operates Power Station.Natural Gas (NG) normally used as fuel & supplied from Some Supply Authoritythrough a single pipe line to power station. In side power station, NG Tariff metering skid is installed at NG line to calculate the total gas flow to the power station gas turbines. This complete Tariff metering system was commissioned for years as a part of 'H' Phase -1 project.In NG tariff metering skid, one 2-inch line is used to supply the natural gas to ground flares burners to burn waste gases and water bath heater heating burners. On this 2"line a turbine flow meter along with solar powered local display is installed for natural gas flow measurement, which is referred to as NG Minimum Flow meter. The gas flow of minimum flow line is measured by a solar powered turbine flow computer. Specification of these flow transmitter as follows:
Type : Turbine flow meter type
Power supply: solar power with battery backup,
Output: Local display
Flow computers receive data from field instruments & then process these value to provide actual NG flow in Local display.
The complete system consists of followings
a) Turbine Flow meter
The turbine flow meter is essentially a velocity measuring device which is calibrated to indicate volumetric flow of liquid or gases in a pipeline. The operation of the flow meter based upon the speed (angular velocity) of a freely supported rotor which revolves at a rate directly proportional to the flow rate of the natural gas in 2" pipe line.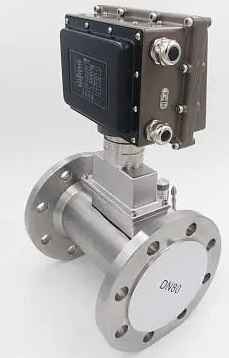 b) Magnetic Pickup Probe
A magnetic pick up probe is installed in the flow meter body, perpendicular to rotor blade. The rotor blades cut the magnetic field set up by a permanent magnet assembly in pickup probe and generate a pulse frequency output. The generated frequency is proportional to the speed of rotor.
The pulse density (number of pulse per rotor revolution) depends upon number of rotor blades and blades angle.
c) Temperature Transducer
A RTD (PT100) probe is installed along with thermowell in the NG pipe line to measure NG temperature.
Solar Panel:
A miniature solar panel is installed along with flow computer for providing DC power supply to the flow computer. There is no external power supply for this unit.
Backup Battery Box: 6v battery (36AH) housed in battery box, locally installed beneath to solar panel is used to provide power supply during night time to keep continues operation of the unit.
d) Flow Converter (Flow Computer):
The flow computer is a microprocessor based unit & installed locally near to 2" minimum flow NG line. This flow computer performs function like flow calculations & local indication. All the inputs like pulse, static pressure and temperature are connected to this unit for performing flow calculations.
As the existing NG Minimum Flow metering system is obsolete, service and spare parts are not available. The authority intends to upgrade the existing obsolete NG minimum flow meter with new & latest version system. The new flow meter shall be configured with all the available functionalities of existing system in its same form & structure as it is now without any change in addition to new features of new proposed system.
The authority intends to accomplish the above work through open tender by competent & well experienced local contractors/bidders for supply, installation, configuration, testing and commissioning of the system as specified in this enquiry to meet up the intended requirements mentioned below.
The new system shall incorporate the latest development in proven technology and shall be proven in at least 03 industrial applications in the last 5 years.
The contractor shall visit the site for proper site information and correct understanding of the work requirement prior to submission of the bid and should submit enough references and proven track records of execution of similar works in industrial fields.
All the necessary arrangement to install the new flow meter its instrument including modification, any civil work during installation, any material required during erection or other consumables required for the execution/ completion of the subject activity shall be arranged by the contractor.
Scope of the Work:
The enquiry is intended to execute the works as described under clause 2.1 below. However, the authority reserves the right to exclude or modify part of the scopes based on prevailing situation.
Appropriate latest version type/model flow metering System shall be proposed by the bidders based on actual site visit, information and engineering design to meet up the intended purposes.
For proposed system electronic instrument/modules/cards, sensors etc., the copies of detailed technical specifications, which are necessary to meet up the requirements of tender specifications, shall be submitted along with the offer by the bidders.