Question:
Below is one of our customers who have below applications and also below demands:
We are building a combustion test facility at one University of Technology and Economics and we are currently searching for a gas flow meter for combustion air flow measurement, the combustion air is clean air, The gas arrives at the flow meter at ambient conditions (~20 °C and  ~1 bar). DN50 size with around 6-65 m3/h range, the housing can be either aluminum or stainless steel, corrosion resistant rotor, standard structure, +-1% accuracy, no explosion proof, and either flange or thread connection is fine. We want to find a cheap price flow meter with good quality.
We prefer gas turbine flow meter, also we are not against the thermal mass flow meter, and however, we expect higher pressure drops. If you can send us a pressure drop chart or a list of available sizes (length and internal diameter along with necessary upstream and downstream distances are fine, we can estimate the pressure drop from these data), it would be helpful. Thank you in advance!
Answer:
Thanks to contact
SILVER AUTOMATION INSTRUMENTS
which is a China instruments supplier who provides cheap and robust process instruments.
As for your questions, see below answers:
Gas turbine flow meter pressure loss curve table, please see below, wish it will help you.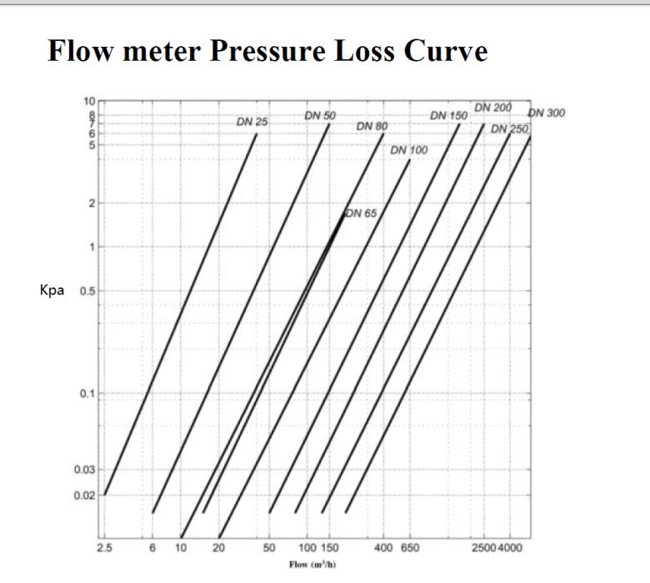 Thermal mass flow meter do not have much pressure loss, because its working not affected by temperature and pressure.
We give you both of the two flow meters models for your reference:
Gas

turbine Flow meter

(flow unit m3/h )
SGW-C-50-S1-S-S-N-10-N-N-FL
Catalog reference link: http://www.silverinstruments.com/product/flow-measurement/gas-turbine-flow-meter.html
Thermal mass Flow meter
SRK-100-50-I-PLF-19-6-A0-T0-P1-D-1-A0-E
Catalog reference link: http://www.silverinstruments.com/product/flow-measurement/srk-100-thermal-mass-flow-meter.html
Note: the flow unit is Nm3/h, the measuring result is standard flow.
If you are satisfied with our answer, welcome to send email
sales@silverinstruments.com
to obtain the gas flow meters price.