Why need thermal mass flow meter for environment monitoring?
As time passes by we need to raise awareness about energy consumption. If we do, then we can make sure our future generation does not suffer from energy problems.
Ever since we have come to this realization, scientists have been working hard to create better energy sources. So far, there have been many discoveries that make energy consumption smarter. Meaning, fuels and other energy sources are modified to release more energy with less consumption.
Thermal mass flowmeters are a device that helps in the measurement of the mass emission. Hence they are very important in the emission process.
How is the gas measurement development ?
A rule was passed on 8 November 2010, on CFR 40 part 98 which imposed that they must monitor and report Greenhouse gases emission. It became active on 30th December 2010, now the facilities that emit more than 25,000 metric CO2 will need to monitor gas releases all the time.
After that, all those plants that worked with natural gas and petroleum were affected by this rule. The EPA wants the measurements of gas emitted from the system. When the thermal mass flow was used for measurements, it proved to be more than what was required by the rules.
In 2012, June the EPA issued another rule. Here, they included that flares of petroleum from factories should be monitored. The readings from the flow metered must be under constant observation. All the time that the readings are being monitored the device must maintain the temperature and pressure correctly.
Thermal mass flow meter fulfills the gas monitor requirement
The thermal mass flow meter fulfills these requirements ideally. They can measure the temperature and pressure without affecting them. Hence the measurement from the device is accurate. If you use a flare meter, they cannot provide readings with such efficiency.
Process of combustion need gas measurmeent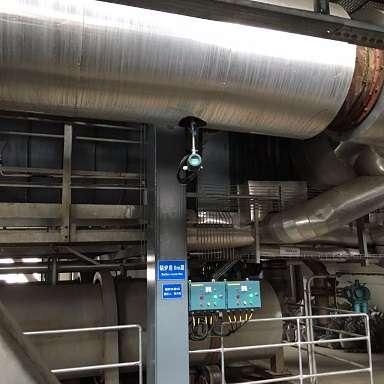 Plant burners who are looking for better performance from the system need to balance fuel and make sure that there is less emission. The burners are kept at air- rich condition so that pressure and heating value can be changed at will.
Over here the combustion process is incomplete leaving CO2, NOx and fuel wastes. In this process, the fuel-to-air ratio is important. It plays a vital role in maintaining the condition and keeping the thermal emissions in control. You can easily achieve efficiency if you get the right fuel-to-air ratio.
Many flow meters are used in this type of burner to observe emission and efficiency. However, the factors with which the best flow meters are selected is direct;
Measurement of mass flow

Precision

Ease of installation process

The number of times it is repeated

Reliability and safety

Turndown

Most flow meters measure the mass of the flow and need extra devices to measure pressure and temperature, so that mass flow and density can be calculated.
Thermal mass flow meter can meet the requirement used in process of combustion
However, the mass flow meter directly measures the mass flow. Hence it is not affected by the changes in temperature and pressure. Thus the mass flow meter gives more accurate, reliable and repeatable readings than other meters. It also has more rangeability than other flow meters.
Apart from the above advantages, it is also easy to install and maintain. The device does not have any moving parts. You can install it by inserting it on a pipe.
Thermal gas flow meter has a broad instrument range that can measure even slow flowrates, such as flare stack, vent gas, other slow emissions.
Many thermal flow meters also consist of totalizers and other digital communications that help you manage the system. You can use this system to maintain industrial, commercial, GHG, institutional, releases. Along with that, it gives a reliable, affordable way to calculate the amount of fuel consumption by the device.
As you may have realized by now Thermal mass flow meter solves a lot of problems that come with emission monitoring and management. It is also easy to install. Other benefits of the device include;
Totalizer that helps air quality maintaining

It has many outputs signal that interface with the management system

Changes in temperature and pressure do not affect its reading

Has a broad range (100 to 1) which lets it measure flows with low velocity
Principal uses for thermal mass flow meter
Landfill gas
Landfill gas is methane gas that is released in facilities. There are plants where methane gas is not used. The EPA needs landfill workers to collect the unused gas and flare it to stop it from releasing in the atmosphere. Methane is a greenhouse gas and its emission must be in control.
This methane gas is collected and used for three purposes;
They are liquified and used in vehicles for fuel.

It can be used to generate electricity for the surroundings.

Turbines and engines are fueled by this methane gas
Since the gas undergoes many processes, its release, flaring, recovering, etc, the entire course needs to be monitored carefully. The LGE may change gas compositions, depending on the situation. The seasonal changes can affect how the gas respond or explode.
The thermal mass flow meter can help in maintaining these gas compositions and change them accordingly. They also improve the performances of engines and oxidizers to make it more suitable.
you can see how the wasted gases are flared. The reaction produces organic hydrocarbon, CO2, and water vapor. Some settings may contain additional valves. These are placed to take care of uncertain conditions. If things go wrong, these can be used to release the gases from the system.
Applications contain oil refiners, gas and oil well drilling procedures, gas distribution infrastructure, chemical process plants, landfills. The process needs strict monitoring. Since everything needs to be reported to the authority, to make sure no gas is released into the atmosphere.
Flaring gas is one of the hardest processes due to the changes in density, flow rates, composition. Thermal mass meter proved itself in low flowrate measurements as well as high flowrate measurements in difficult conditions.
Wastewater treatment plants
In wastewater treatments, large heated digesters remove solid material from the water. Inside the digester, some bacteria break down materials and produce gas.
Methane is one of the gases produced in the plant is a large quantity. Most WWTPs collects the gas and flares it off the unwanted excess. The rest of the gas is used in producing electricity, in combustions, as fuel in vehicles. Some are also distributed in the neighborhood for business.
ADG is a gas that often contains hydrogen sulfide. It may accumulate on the pipes. Hence flow meters with no moving parts can lower the cost, by getting rid of the maintenance cost.
Most digester gases are regulated at low pressure. The thermal mass flow meter can be used to measure these flowrates accurately without altering the pressure or temperature. So, they are used a lot in the WWTPs systems to measure gas releases and make sure the environment is safe.
What type of thermal flowmeter is right?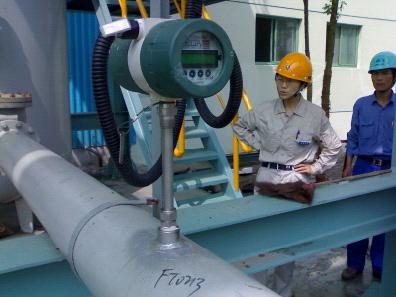 Since thermal mass flowmeters are used in varieties of applications, you need to know which one to use when. The mass flowmeter for liquids will certainly not go for air and gas measurements. Some flow meters are perfect for steam flow measurements.
You need to pick the right one considering your need. Hence, an examination of the place where the meters will be installed is good for the application. It can save time and money and make sure that your flow meter is working properly.

During the examination, you can also check the pipe's ability to withstand pressure and temperature. When it comes to pipe, you need to evaluate the material, size, direction of flow, valves, length, etc.

The most important feature of a flowmeter is rangeability and precision. When you are getting one, you will find specific meters for water, air, or a particular gas. It is important to specify what the meter will be used for before getting one to determine the type.

Although most flowmeter installation is easy, some may need to cut out pipes. For this, the gas flow sensor and the place for installation should be examined well. The installation process may affect how effectively the device will work.

Some flowmeters need particular pipes, (upstream, downstream or of a specific length) to produce accurate results. In such a case, an extra pipe may raise the cost again.

Flowmeters must not be installed near the upstream disturbances. They affect the accuracy of the meters. It is best to keep the meter somewhere in the 20 diameters of straight pipe downstream to maintain the high accuracy.

In some cases, a non-flow conditioned meter is used. However, most of the times straight pipes are not available.
Thermal flow measurement
This is the most preferred flowmeter in many applications with improved performance and better user interfaces. Since it measures mass flow directly, it has many advantages for measuring volumetric flows.
As we have said before, the thermal flow meter does not depend on any other device for measurement. Only installing this one device can give accurate measurements of the emission. It saves costs on the installation of multiple devices on the system.
Considering technologies are improving fast and new additions are provided to the devices. With time it will enhance the measurements and readings of the thermal mass flowmeter for monitoring environment.